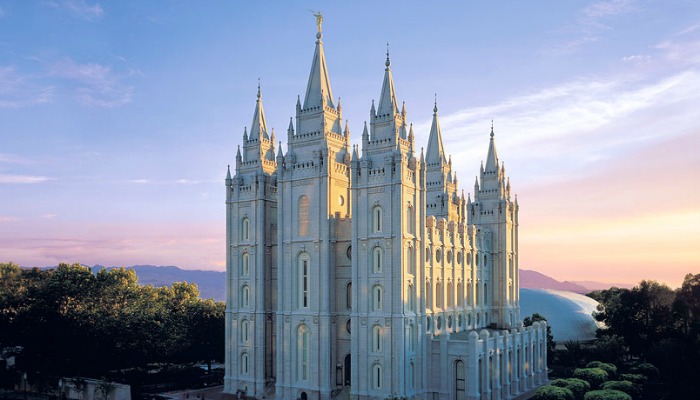 In a policy update, The Church of Jesus Christ of Latter-day Saints says that children living with parents or guardians in a same-gendered marriage or cohabiting relationship cannot receive a baby blessing or be baptized.
The policy revision takes place with a new section added to Handbook 1, a guide for stake and ward leaders. The Church has not released an official statement on the policy, but Church spokesman Eric Hawkins confirmed, "Church handbooks are policy and procedural guides for lay leaders who must administer the Church in many varied circumstances throughout the world."
A child of a same-sex couple will be allowed baptism into the Church only once of legal age and after he or she denies the practice of LGBTQ relationships.
In full detail, section 16.13 of the Handbook states:
A natural or adopted child of a parent living in a same-gender relationship, whether the couple is married or cohabiting, may not receive a name and a blessing.

A natural or adopted child of a parent living in a same-gender relationship, whether the couple is married or cohabiting, may be baptized and confirmed, ordained, or recommended for missionary service only as follows:

A mission president or a stake president may request approval from the Office of the First Presidency to baptize and confirm, ordain, or recommend missionary service for a child of a parent who has lived or is living in a same-gender relationship when he is satisfied by personal interviews that both of the following requirements are met:
The child accepts and is committed to live the teachings and doctrine of the Church, and specifically disavows the practice of same-gender cohabitation and marriage.
The child is of legal age and does not live with a parent who has lived or currently lives in a same-gender cohabitation relationship or marriage.
Another update to the Handbook defines one form of apostasy from the Church as being in a same-sex marriage, and that local leaders should take disciplinary action.
Hawkins told KUTV, "The Church has long been on record as opposing same-sex marriages. While it respects the law of the land, and acknowledges the right of others to think and act differently, it does not perform or accept same-sex marriage within its membership."
Children of same-sex couples are not the only ones that must wait until legal age to officially join the Church. A long-standing policy within the Church states that any child cannot be baptized into the Church without his or her parents' consent.
Preach My Gospel, a missionary handbook, states, "If the candidate [for baptism] is a minor, ensure that the parents or guardians have given permission, preferably in writing, for him or her to be baptized."
If a child's parents practice polygamy, that child is also required to wait until legal age to join the Church. In addition, the Church does not allow a husband or wife to be baptized without the consent of his or her spouse.