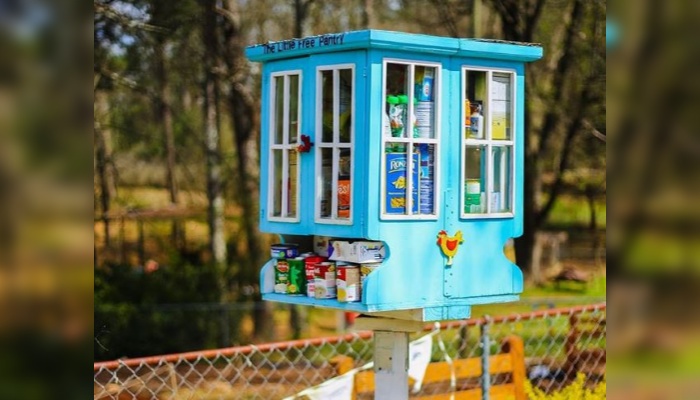 Remember a while back when those cute little free community library boxes started springing up all over the place? Those are cool. They're a novel idea (see what I did there?), and have become fairly popular. There's one just a block south of where I live. But the "little free pantry" initiative is some next level stuff. Instead of lending books to the community for free, these pantries offer free food to those in need. On many of the posts you'll read a heartwarming message: "Take what you need. Give when you can." And that's as simple as it needs to be.
According to Upworthy.com, Jessica McClard of Fayetteville, Arkansas, is behind the grassroots effort. And sure enough, she was inspired by the community library boxes project. You can learn more about the initiative on littlefreepantry.org. But in the meantime, take a look at some of the pantries people have been putting together and posting online under the hashtag #littlefreepantry.
1. In Mableton, Georgia
https://www.instagram.com/p/BvmZCwDHqRy/
2. In Tacoma, Washington
3. In Rogers, Arkansas
4. Probably in Columbus, Ohio
5. Littleton, Colorado
6. Greenville, North Carolina
7. Columbus, Ohio
8. Joliet, Illinois
9. Location unknown
10. Columbus, Ohio
11. Paris, Ontario (Canada!)
12. Yellow Springs, Ohio
13. Location unknown
https://www.instagram.com/p/B0Kd7RNHVvS/
14. Ascot Vale, Victoria (Australia!)
15. Colorado
16. Minocqua, Wisconsin
17. Salt Lake City, Utah
Check out more little free pantries on Instagram under the hashtag #littlefreepantry.
This initiative isn't affiliated with the Church per se, but it has everything to do with the gospel of Jesus Christ. That's what the Little Free Pantry project is all about, whether the people participating are Christians, Muslims, Taoists, or Atheists. All truth is gospel, and the gospel truths evident in this project transcend whatever church you associate with. It's been awesome to especially see our Christian friends rally behind their communities through this project. It's about kindness, charity, feeding the hungry, and caring for the poor. And every little bit helps.
Have you seen any little free pantries near you? Let us know in the comments!