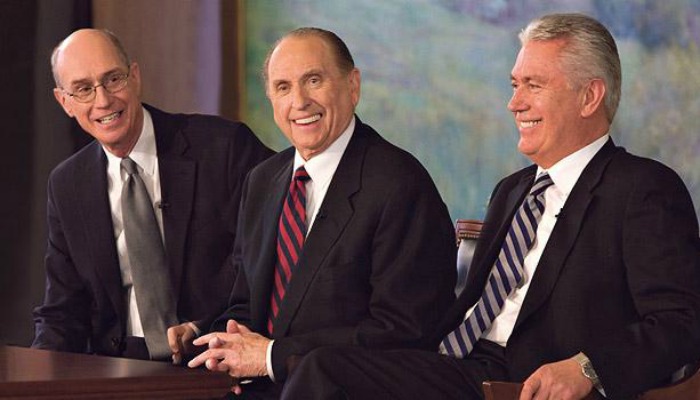 The current First Presidency and Quorum of the Twelve Apostles for The Church of Jesus Christ of Latter-day Saints is the oldest leadership the Church has ever had. The average age of the 15 leaders of the Church is 80.
The Salt Lake Tribune reports LDS researcher Christian Anderson, from Carlsbad, California, used information from churchofjesuschrist.org to calculate the average age of the Church leaders.
Thomas S. Monson (87.53 years old), Henry B. Eyring (81.75 years old) and Dieter F. Uchtdorf (74.32 years old) comprise the First Presidency of the Church for an average age of 81.2.
The following is a list of the members of the Quorum of the Twelve Apostles and their respective ages:
Boyd K. Packer, 90.48 years

L. Tom Perry , 92.57 years

Russell M. Nelson, 90.48 years

Dallin H. Oaks, 82.55 years

M. Russell Ballard, 86.40 years

Richard G. Scott, 86.32 years

Robert D. Hales, 82.52 years

Jeffrey R. Holland, 74.25 years

David A. Bednar, 62.71 years

Quentin L. Cook, 74.48 years

D. Todd Christofferson, 70.10 years

Neil L. Andersen, 63.56 years
According to Anderson, when the ages of all 15 leaders of the Church are taken into account, the average age rounds out to 80 years old—the oldest age of leaders, on average, since the Church was reorganized 185 years ago.