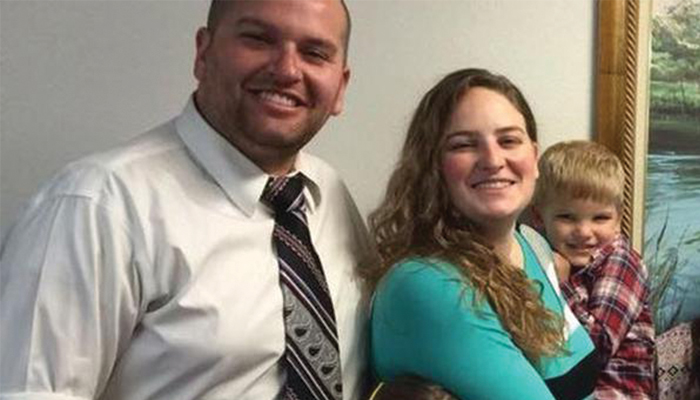 Mother Dies on Trek
On Monday, June 20, 2016, Meaghan Lee Querry Blair, mother of two young children, died on a pioneer trek in Oklahoma.
Blair and her husband, Michael, were serving as "ma" and "pa" for a group of youth on this popular trek to re-enact the Mormon pioneers' move west.
There was a medical staff on hand, with a doctor and two registered nurses, and significant preparations were made following trek guidelines. However, in light of the death, LDS group leaders are reassessing safety efforts.
Blair began to experience problems near the end of a seven-mile hike in the heat and was flown to a hospital, where she passed away. The cause of her death has not been confirmed.
"We express our love and deepest sympathies to the family of Meaghan Blair," said Deborah Neria, spokeswoman for the Rogers Arkansas Stake of The Church of Jesus Christ of Latter-day Saints. "This is a heartbreaking loss for the family and all who knew her. Meaghan leaves behind a husband, Michael, and two young children."
A crowdfunding page has been set up by a family friend to help the family with medical, funeral, and future expenses as well.
Missionary Dies in Accident
It has been reported that 24-year-old missionary, Elder Argenis Jesus Gonzalez Villarroel, died in a taxi accident on Wednesday, June 22, 2016.
Eric Hawkins, spokesman for The Church of Jesus Christ of Latter-day Saints released a statement:
"We are very sad to share the news of the death of one of our missionaries, Elder Argenis Jesus Gonzalez Villarroel, age 24, who died in an auto accident this afternoon. Elder Gonzalez was being transferred from one area to another via a taxi service when the vehicle he was riding in was involved in a serious accident that killed three passengers. No other missionaries were involved. Our deepest sympathies and heartfelt prayers are with his family and those who knew and loved him. We also pray for the families and loved ones of the other victims in the accident."
Elder Gonzalez had been serving in the Venezuela Barcelona Mission since May 2015.