Here are the best Mormon-themed April Fool's day jokes online. Get the inside scoop here, and avoid getting pranked on Facebook.
Be sure to check in throughout the day as we update our story to include new pranks.
No Sunday Night Session of Conference
Popular blogger, Jeremy "Gogo" Goff started off the day by announcing a new Sunday night session of General Conference for endowed members only. He then listed off possible reasons for the session including a new Returned Missionary Training Center or that Elder Jeffrey R. Holland is running for president.
LDS Bookstore also got into the action citing an announcement for a seventh session from Elder "Youknowhow" from the third quorum of seventy.
But alas, no such session is announced. Enjoy speculating though.
[Editor's Note: LDS Bookstore in fact first started the joke in 2013, republishing it this year]
No Virtual Reality Sacrament Meeting
For their second annual April Fool's Day joke, LDS Daily announced that every ward's three-hour block would now be available over newly available virtual reality headsets.
The new program was instituted by the "Church Transmitted Reality" department or the CTR department.
Unfortunately, the article was not well labeled as an April Fool's day joke, and many home-bound members were tricked.
No Disneyland Temple
Many Latter-day Saints sure love their Disney, so no wonder notorious April Fool's connoisseur, John Huntinghouse of LDS Smile, made this year's prank about a new temple in Disneyland.
The announcement came from the "Temples That Will Never Be Built Department" of the Church. And the land will be donated in exchange for the Church donating musicians such as Alex Boyé and Lindsey Stirling.
But in fact, Southern California Latter-day Saints will still need to go to the Newport Beach Temple twenty minutes down the road from Disneyland.
No Church Handbook Wiki
The Exponent II, a feminist Mormon Blog, is definitely our winner for the most creative April Fool's day joke.
Their joke has the Church putting the Church Handbooks of Instruction in Wiki form for Church members to crowd-edit.
According to their fake spokesperson, "Our examination of the BYU student body tells us that our educated young people trust and use wikis as reliable sources."
No Delay For General Conference
Prank site ShareonFB is perfect for an April Fool's day joke. The site allows anyone to create an article that will disappear for a prank banner.
One article that got traction today announced that General Conference would be delayed one week amid fake "safety concerns."
Fortunately, a big banner announcing the April Fool's day joke pops up on screen after only a few moments.
No Year-Round Seminary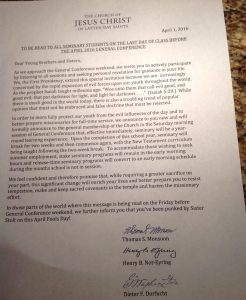 The picture to the right is being circulated around Facebook. This letter, printed on Church letterhead and stylized like many letters from the first presidency is nevertheless signed by "Thomas Monsoon" and "Henry Not Eyring."
The letter announces year-round seminary. And to accommodate summer jobs will still be held in the early morning. The seminary teacher who started the joke even had a high councilor from her stake come to class to read the letter.
The letter ends, "In those parts of the world where the message is being read on the Friday before General Conference Weekend, we further inform you that you've been punked by Sister Stolt on this April Fool's Day!"
No Temple Starbucks
Jana Riess on her blog "Flunking Sainthood" opens her April Fool's prank with the tip-off, "A special April 1 report"
The report announces a test roll-out of Starbucks in 10 LDS temples. But one "off the record source" suggests if the test is successful it will be rolled out to all temples.
Starbucks will also be testing special LDS products such as "testamints" and general authority action figures.
The article ends by noting that the temple Starbucks will be closed on Sundays because there are some lines even Mormons won't cross.
What are your favorite April Fool's Day jokes? Are there any we missed? Let us know in the comments.