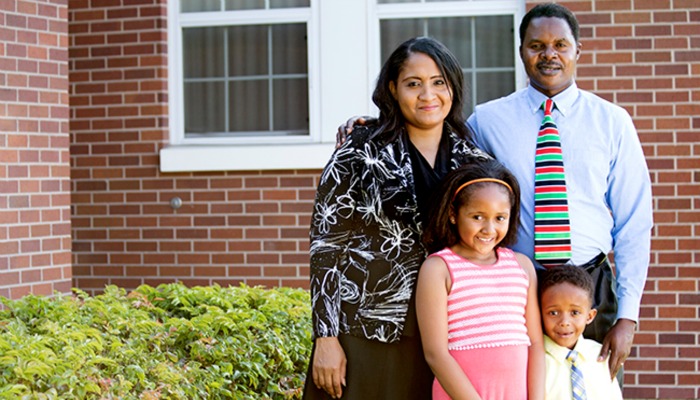 Amram Musungu met the Mormon missionaries in 1992. A teenager and devout protestant living in rural Kenya, Musungu took to the Church's message immediately and was soon baptized.
Today, Musungu is a Utah resident, holding dual citizenship and looking to give back to the country that raised him.
"I will be the best president the country has ever had," Musungu told Deseret News, eyes gleaming.
As a child, Musungu slept on banana leaves placed over his hut's dirt floor — his feet were bare until he was 15. Despite his humble beginnings, Musungu was determined to rise above his circumstances. Though his village was over an hour's walk away from the nearest school, Musungu did not miss a day.
At 17, Musungu received permission to embark on a special LDS mission. He served as a missionary in Kenya for 27 months, sharing his love for the gospel with all those he met.
"I wish I could've served more," Musungu shared. "I loved what I was doing."
Following his mission, Musungu gathered money to purchase a ticket to Utah and arrived in the United States with $50 to his name. After attending LDS Business college, Musungu went on to receive the degrees and certification from University of Utah and Westminster to become an auditor/accountant.
After converting his wife to the gospel, Musungu married her. Together they have two children, ages 8 and 4, within whom Musungu hopes to instill a love of service. Musungu bases his life on service, so it was no surprise when he announced his presidential bid for Kenya.
"There is so much to do and so many people we can reach who need our help every day," said Musungu. "It makes my life easier, I am happier, my life is more rewarding. Helping someone, for me, is a big accomplishment in my day."
After spending hours pondering the unrest in his homeland — and spending an equal number of hours praying — Musungu decided it was his duty to run for president. Currently, Kenya suffers under everything from political corruption and national security issues to high unemployment, lack of education, and general economic turmoil. But Musungu has plans to fix all this with time and the help of many, many hands.
His grass-roots campaign is already gaining traction in his homeland of over 46 million people. Musungu has plans to name his female running-mate soon, hoping to fulfill his promise of bringing a voice to Kenya's women.
Musungu emphasizes the huge impact the gospel has had on his life. He is a  member of the Mormon Tabernacle Choir, and he also served as Branch president of the Swahili Branch in Salt Lake.
"The gospel has helped me to understand that nothing is impossible as long as it has to do with blessing the lives of others."
Read more at Deseret News.