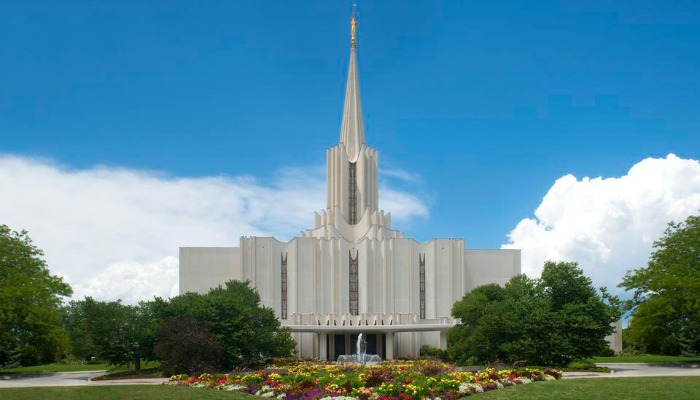 The open house for the renovated Jordan River Utah Temple begins March 17, 2018. The public will have six weeks to tour the new temple.
An excerpt from Mormon Newsroom,
"Everything about the temple and the renovations of temples is to make certain that the experience the patron has is the best experience possible," said Bishop Dean M. Davies, first counselor in the Presiding Bishopric. "They can come into the temple; it's clean and it's organized and it's sacred and spiritual."
The spire, with its drape-motif-inspired windows and sweeping exterior design, makes the Jordan River Temple a familiar landmark in Utah's Salt Lake Valley.
Mahogany-fluted millwork fashioned by specialists in northern and southern Utah compliment and further display the drape motif throughout the interior, while the floor features imported marble from Turkey.
Free tours will run through Saturday, April 28, 2018, except for March 18, 24, 25 and 31 and April 1, 8, 15 and 22. Complimentary tickets are available for the temple open house at https://templeopenhouse.churchofjesuschrist.org/.
"Over time," Bishop Davies explained, "temples tire. It's like owning a car. After a few years, you have to change the tires. And so in a temple, over a number of years, we have systems that show wear — heating, ventilation, air conditioning, electrical systems."
"We're entering a unique period of time," remarked Brent Roberts, managing director of the Church's Special Projects Department. "We have a number of temples, of course, that are aging, especially those that are between 35 and 45 years old, including this temple, as well as other temples that just need to be refreshed — not so much refreshed on the interiors, but refreshed with mechanical, electrical and plumbing."
Bishop Davies said when the Church considers an extensive renovation on a temple over 30 years old, an important goal is to reduce operation and maintenance costs. The temple also reflects the attitude of the Church of wanting to be a good steward in the community.
The Church's Special Projects Department senior project manager, Chris Robbins, said there's new technology called cogeneration that uses natural gas turbines. "You can create your own power in your building to offset and save money by making your own electricity. We're saving anywhere from 50 to 60 percent of our energy costs in the building."
The Jordan River Utah Temple will be rededicated Sunday, May 20, 2018, in three sessions, 9:00 a.m., 12:00 noon and 3:00 p.m.; the sessions will be broadcast to church meetinghouses in the temple districts of the Jordan River, Oquirrh Mountain, and Draper Utah Temples. The regular block of Sunday meetings on that day will be canceled to allow Latter-day Saints in those areas to participate in the rededication. The cultural celebration will be held Saturday, May 19.
Latter-day Saint temples differ from the meetinghouses or chapels where members meet for Sunday worship services. Temples are considered "houses of the Lord," where the teachings of Jesus Christ are reaffirmed through marriage, baptism and other ceremonies that unite families.
Currently, 12 temples around the world are closed or will close this year for renovation.