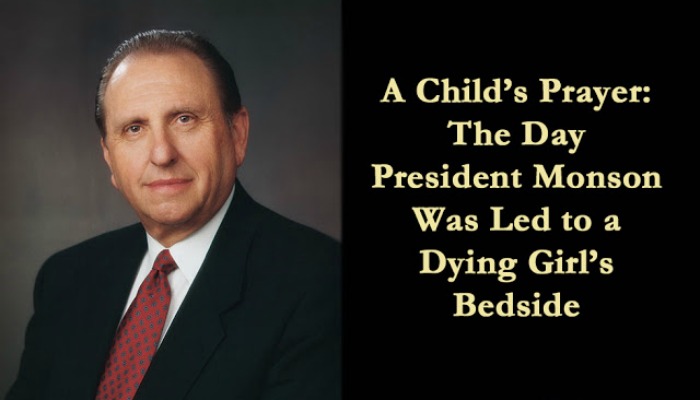 Republished From:

This article has been shared here by permission of the author. The original article can be found at
AggieLandMormons.org
.
Ministering to the one has been a hallmark of President Thomas S. Monson's lifetime of service in The Church of Jesus Christ of Latter-day Saints. On countless occasions across the world, President Monson has felt the Spirit's gentle prompting to stop whatever else he was doing and lovingly go to the aid of someone in need. In sharing a remarkable experience that demonstrates his sensitivity to the Spirit and his love for children, President Monson recounted the time he was led to the bedside of a dying girl in answer to her sincere prayer.
Christal was a 10-year-old girl who had been diagnosed with cancer. She lived about 80 miles from Shreveport, Louisiana, and when her prognosis became terminal, her family made plans to visit Salt Lake City in hopes that Christal might receive a blessing from a General Authority. The family did not know any of the Brethren personally, so when they showed Christal a picture of all the General Authorities, she pointed to President Monson and told her family he was the person from whom she wanted to receive a blessing.
Here is the rest of the story as told in October 1975 General Conference, in President Monson's own words:

Christal never made the flight to Salt Lake City. Her condition deteriorated. The end drew nigh. But her faith did not waver. To her parents, she said, "Isn't stake conference approaching? Isn't a General Authority assigned? And why not Brother Monson? If I can't go to him, the Lord can send him to me."
Meanwhile in Salt Lake City, with no knowledge of the events transpiring in Shreveport, a most unusual situation developed. For the weekend of the Shreveport Louisiana Stake Conference, I had been assigned to El Paso, Texas. President Ezra Taft Benson called me to his office and explained that one of the other Brethren had done some preparatory work regarding the stake division in El Paso. He asked if I would mind were another to be assigned to El Paso and I assigned elsewhere. Of course there was no problem—anywhere would be fine with me. Then President Benson said, "Brother Monson, I feel impressed to have you visit the Shreveport Louisiana Stake." The assignment was accepted. The day came. I arrived in Shreveport.
That Saturday afternoon was filled with meetings—one with the stake presidency, one with priesthood leaders, one with the patriarch, then yet another with the general leadership of the stake. Rather apologetically, Stake President Charles F. Cagle asked if my schedule would permit me time to provide a blessing to a ten-year-old girl afflicted with cancer. I responded that, if possible, I would do so, and then inquired if she would be at the conference, or was she in a Shreveport hospital? Knowing the time was tightly scheduled, President Cage almost whispered that Christal was confined to her home—more than eighty miles from Shreveport!
I examined the schedule of meetings for that evening and the next morning—even my return flight. There simply was no available time. An alternative suggestion came to mind. Could we not remember the little one in our public prayers at conference? Surely the Lord would understand. On this basis, we proceeded with the scheduled meetings.
When the word was communicated to the Methvin family, there was understanding but a trace of disappointment as well. Hadn't the Lord heard their prayers? Hadn't he provided that Brother Monson would come to Shreveport? Again the family prayed, asking for a final favor—that their precious Christal would realize her desire.
At the very moment the Methvin family knelt in prayer, the clock in the stake center showed the time to be 7:45. The leadership meeting had been inspirational. I was sorting my notes, preparing to step to the pulpit, when I heard a voice speak to my spirit. The message was brief, the words familiar: "Suffer the little children to come unto me, and forbid them not: for of such is the kingdom of God." (Mark 10:14.) My notes became a blur. My thoughts turned to a tiny girl in need of a blessing. The decision was made. The meeting schedule was altered. After all, people are more important than meetings. I turned to Bishop James Serra and asked that he leave the meeting and advise the Methvins.
The Methvin family had just arisen from their knees when the telephone rang and the message was relayed that early Sunday morning—the Lord's day—in a spirit of fasting and prayer, we would journey to Christal's bedside.
I shall ever remember and never forget that early-morning journey to a heaven the Methvin family calls home. I have been in hallowed places—even holy houses—but never have I felt more strongly the presence of the Lord than in the Methvin home. Christal looked so tiny lying peacefully on such a large bed. The room was bright and cheerful. The sunshine from the east window filled the bedroom with light as the Lord filled our hearts with love.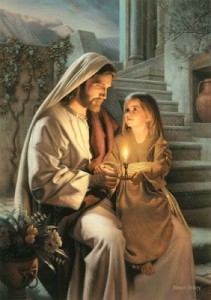 The family surrounded Christal's bedside. I gazed down at a child who was too ill to rise—almost too weak to speak. Her illness had now rendered her sightless. So strong was the spirit that I fell to my knees, took her frail hand in mine, and said simply, "Christal, I am here." She parted her lips and whispered, "Brother Monson, I just knew you would come." I looked around the room. No one was standing. Each was on bended knee. A blessing was given. A faint smile crossed Christal's face. Her whispered "thank you" provided an appropriate benediction. Quietly, each filed from the room.
Four days later, on Thursday, as Church members in Shreveport joined their faith with the Methvin family and Christal's name was remembered in a special prayer to a kind and loving Heavenly Father, her pure spirit left its disease-ravaged body and entered the paradise of God…
I bear witness that Jesus of Nazareth does love little children, that he listens to your prayers and responds to them. The Master did indeed utter those words, "Suffer the little children to come unto me, and forbid them not: for of such is the kingdom of God." (Mark 10:14.) I know these are the words he spoke to the throng gathered on the coast of Judea by the waters of Jordan—for I have read them. I know these are the words he spoke to an apostle on assignment in Shreveport, Louisiana—for I heard them.
To these truths I bear record, in the name of Jesus Christ. Amen.
President Thomas S. Monson, "The Faith of a Child," October 1975 General Conference.