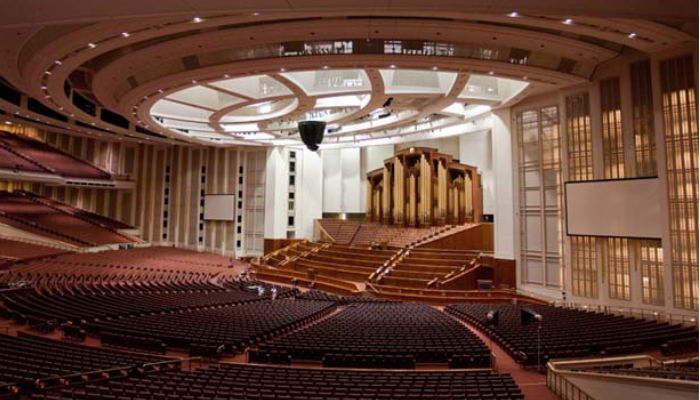 The April 2020 General Conference met us at the beginning of this pandemic. The event was definitely historic because it involved a Hosanna shout and a Worldwide Fast. Here is a quick recap of some of the action items from the last General Conference. Evaluate for yourself how you did.
President Nelson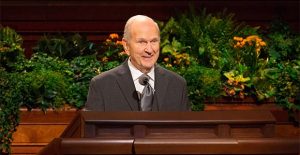 1. Fill your personal spiritual storehouse.
In President Nelson's opening remarks, he stated, "The Lord has told us that 'if ye are prepared ye shall not fear.' Of course, we can store our own reserves of food, water, and savings. But equally crucial is our need to fill our personal spiritual storehouses with faith, truth, and testimony."
Many previous prophets have talked about the importance of emergency preparedness. President Nelson's focus is much more on personal revelation and spiritual preparedness. How has this message helped you throughout this pandemic?
2. Determine how you "Hear Him." Take steps to improve. 
Perhaps the most memorable invitation from our prophet was to "Hear Him." He said, "I invite you to think deeply and often about this key question: How do you hear Him? I also invite you to take steps to hear Him better and more often."
How have you made space in your life to "Hear Him?"
3. Participate in a worldwide fast on April 10th. 
President Nelson said, "I invite all, including those not of our faith, to fast and pray on Good Friday, April 10, that the present pandemic may be controlled, caregivers protected, the economy strengthened, and life normalized."
Did you participate in this fast? Reflect on what you learned from this experience.
Joy D. Jones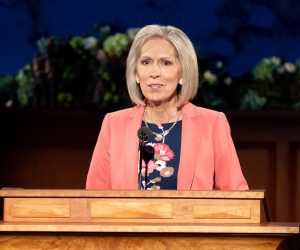 Lay aside distractions to hear the Holy Ghost. 
Sister Jones spoke about the importance of discernment. She invited us to increase our ability to discern by laying aside distractions. She said:
"The Lord instructed Emma Smith to 'receive the Holy Ghost,' learn much, 'lay aside the things of this world, … seek for the things of a better,' and 'cleave unto [her] covenants' with God. Learning is integral to progression, especially as the constant companionship of the Holy Ghost teaches us what is needful for each of us to lay aside—meaning that which could distract us or delay our progression."
Related Link: A List of EVERYTHING Our Leaders Counseled Us to Do at General Conference (April 2020)
Neil L. Andersen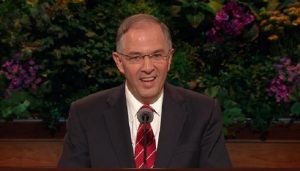 "Reflect on your own spiritually defining memories…"
Elder Andersen spoke in the Saturday morning session of General Conference. His talk was entitled "Spiritually Defining Memories." In this talk, he defined these memories saying:
"Think of your own life. Over the years, I have listened to thousands of profoundly spiritual experiences from Latter-day Saints all across the world, confirming to me beyond any question that God knows and loves each of us and that He eagerly desires to reveal Himself to us."
He continued, "These experiences may come at pivotal times in our lives or in what may at first seem as uneventful happenings, but they are always accompanied by an exceptionally strong spiritual confirmation of the love of God."
How have you seen the hand of God in your life? While it may be too personal to share, think about what some of these spiritually defining memories are for you.
Douglas D. Holmes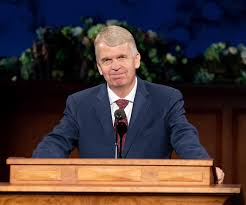 Engage in the gospel through the sacrifice of time and talents. 
Douglas D. Holmes stated: "Finally, to get the gospel of Jesus Christ deep in our hearts, we need to engage in it—to give our time and talents to it, to sacrifice for it."
Sacrificing our time and talents can feel like a big task. How have you done this during the COVID-19 pandemic? How can you continue to do this?
Henry B. Eyring
Pray, ponder, and ask questions about what you learned from this conference.
President Eyring said, "Tonight, and tomorrow night, you might pray and ponder, asking the questions: Did God send a message that was just for me? Did I see His hand in my life or the lives of my [family]?' Faith, obedience, humility, and real intent open the windows of heaven."
While he was specific about doing it that night and the next day, how did you do with that following conference? How can you use these questions to prepare for the upcoming General Conference?
Related Link: God Speaks Through Men and Women at General Conference
Ulisses Soares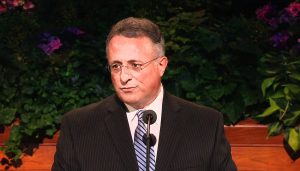 Be a part of the coming forth of the Book of Mormon in your own life. 
Elder Soares said, "I invite you to be part of the marvelous coming forth of the Book of Mormon in your own life. I promise you that as you prayerfully and consistently study its words, you can partake of its promises and rich blessings in your life."
I love that this invitation comes with a promise of rich blessings. How have you done with your study of the Book of Mormon? Have you seen rich blessings come to pass in your life?
How did you do on this self-evaluation? Share in the comments.