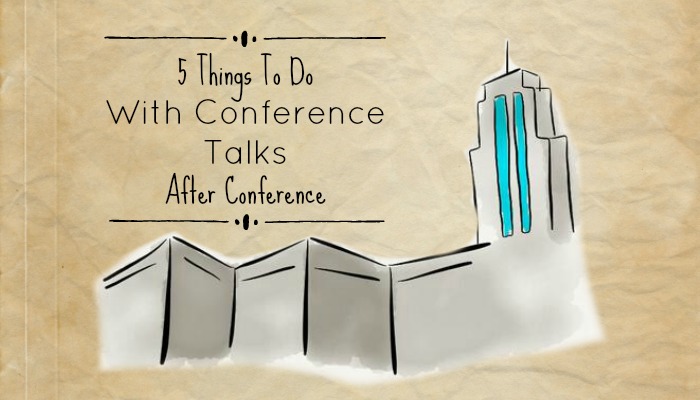 So we've hit our halfway mark between general conference sessions…. And there may be a number of us scratching our heads trying to remember what was even said.
Of course, then there's the other half of us who haven't picked up our notes and haven't quite kept up with our goals (that is, of course, if we made any).
Life seems to hit full speed after every awe-inspiring conference weekend and several months later, we may find ourselves drifting in a sea of spiritual stagnation.
God has revealed that "whether by mine own voice or the voice of my servants, it is the same." As we remember this wonderful truth, we may feel the need to make adjustments to more fully implement the words of the prophets given during general conference.
So, here are some tips to rediscover the joy of conference and place God's words at the center of our lives.
1. Study The Talks Again
OK yes, that may sound like the most basic counsel, but it a big key to making conference worth it!
As much as we may quickly recognize the voices of Miley Cyrus and Elvis Presley when they come on the radio, do we just as easily recognize the voices of the prophets without seeing their names at the bottom of the screen?
President Monson said: "I encourage you to read the talks … and to ponder the messages contained therein. I have found in my own life that I gain even more from these inspired sermons when I study them in greater depth."
Actually listening to the general conference talks again in the morning as you get ready, or on the way to work, or wherever, allows the words to come off the page, with voice fluctuations and tones that bring life to the talks.
But don't discredit the power of reading. Sitting down with a pen and paper in hand and the Ensign magazine has certain perks. As our focus is entirely placed on the talks in front of us, we can gain insight not previously recognized.
Another way of receiving insights is by discussing them with others. We have a unique opportunity to study the talks in our classes and quorums on Sundays, but we can also take time to sit with our families and discuss the words of the prophets together.
2. Find patterns
Heavenly Father knows the things that we deal with in this day and age. As we look for patterns in the talks from conference, we can find inspired counsel to help us in our daily lives.
Elder Bednar said, "There are layers of meaning in the scriptures, brothers and sisters. As we have the companionship of the Holy Ghost, those meanings can be revealed to us."
This applies to the words of our modern-day prophets!
And of course, we must remember one of the greatest patterns is in the testimony the Savior gave that "all things bear record of me" (Moses 6:63). As we look for the Savior in the words of the prophets, our relationship with Him develops and grows stronger.
3. Set goals and Review them
Alright, so first off, we should probably know how to set a goal before we actually set one. Of course, where can we find directions for that? In the conference talks!!
Elder Ballard said, "Wise goal setting includes the understanding that short-term goals are only effective if they lead to clearly understood longer-term goals. I believe that one important key to happiness is to learn how to set our own goals and establish our own plans within the framework of our Heavenly Father's eternal plan. If we focus on this eternal path, we will inevitably qualify to return to His presence."
By reviewing the talks, we can identify long-term goals that we hope to obtain, and short-term goals that can lead us there.
From there, we must continue to review our goals frequently. Having conference twice a year helps us to remember the surge of motivation we feel from the Spirit. However, we should take advantage of the time between conferences to implement our goals.
4. Ask Questions
Elder Samuelson of the Seventy said, "Ours is a gospel of questions, and our lives in all of their spheres require thoughtful and appropriate inquiry if we are going to progress. The question is not whether we should ask questions but rather, what are the questions we should be asking?"
President Nelson asked us to consider these questions in October of 2017; "What would your life be like without the Book of Mormon? Second, what would you not know? And third, what would you not have?"
We can also study the conference talks and create our own questions that can lead us to deeper studies of the Book of Mormon or the Bible and greater pondering during our day.
Likewise, we can make a list of questions that we can take to the next conference for greater insights.
Remember that answers close the mind, but questions allow it to reopen.
5. Fill your home with The Lord's voice
If you are anything like me, unless there is a constant reminder in front of my face, it can be very easy to forget what I need to remember.
Surrounding myself with the words of the Lord through His servants the prophets helps me to keep their words in my mind and heart.
This can be done simply through sticky notes or through elaborate paintings.
As Elder Durrant counseled, we can work to "ponderize" the words of God. Simply choose a phrase that you would like to memorize and place it somewhere you will see it often and can work to ponder and memorize!
The Power of God's Words
Truly the words spoken in general conference are "the pleasing word of God, yea, the word which healeth the wounded soul" (Jacob 2:8).
But the pleasing word of God does so much more than comfort us. It warns us, strengthens us, and "the pleasing word of God that we share today shows us the need for continuous repentance in our lives so we can keep the influence of the Holy Ghost for as long as possible."
Although conference talks are only given twice a year, we can learn so much more by taking the time to study their words, find patterns, set goals, ask questions and fill our homes with their words.
What other ways have you found to help you get the most out of conference? Share below!