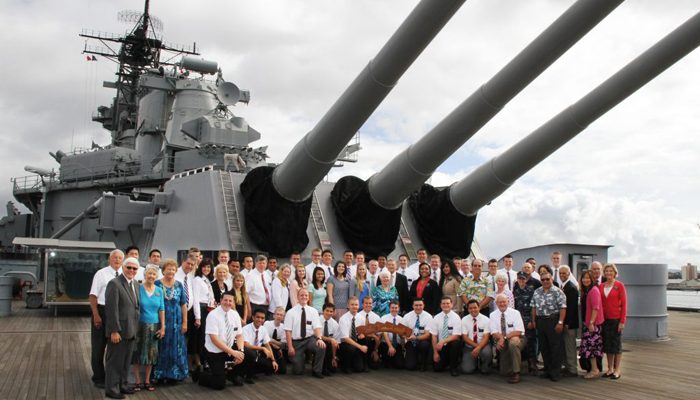 The USS Missouri has been present during some of the most significant events in America's history, including that of Pearl Harbor. This ship, which served as the location for Japan's surrender to the Allied Forces in World War II, was the last active battleship in the world by the time it was decommissioned on March 31, 1992.
The battleship took part in three wars and is an incredible part of America's history. Today, it stays docked at Pearl Harbor as a reminder of the values and lives she defended over the course of fifty years.
For the past four years, missionaries for The Church of Jesus Christ of Latter-day Saints who are serving in Hawaii boarded the ship every Wednesday to help maintain its old deck and keep its history alive. LDS Living reports that the missionaries have offered an estimated 10,000 service hours on renovations and maintenance to the great ship.
Due to the charitable work offered by members and missionaries alike, Church leaders are now recognized on the USS Missouri's deck next to the names of other significant historical figures. On December 5, 2014, Elder Daniel L. Johnson, a member of the Quorum of the Seventy, accepted a plaque on behalf of the Church as recognition for the service members have provided. The plaque reads,
The Battleship Missouri Memorial Association would like to present this piece of original teak deck to The Church of Jesus Christ of Latter-day Saints for volunteer services performed by the Hawaii Honolulu Mission in the maintenance and restoration of the USS Missouri.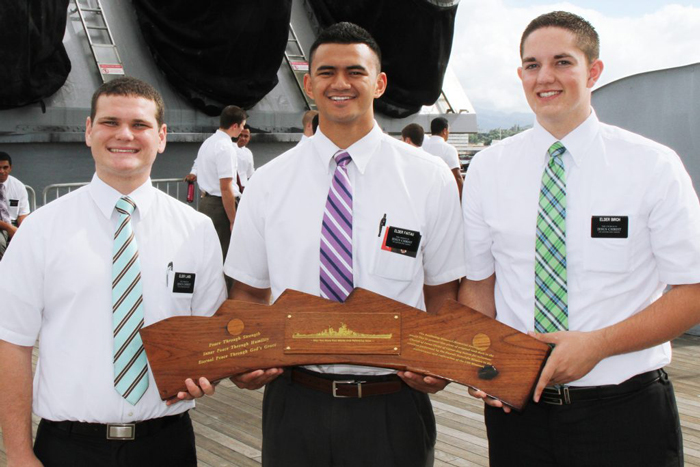 All together, it is estimated that throughout the past ten years, the amount of service that Latter-day Saints have performed on the battleship is equivalent to more than $1 million.
LDS Living notes the significance of having the ship that played such a vital role in the ending of WWII anchored at the location of a surprise attack that brought America into that very war.