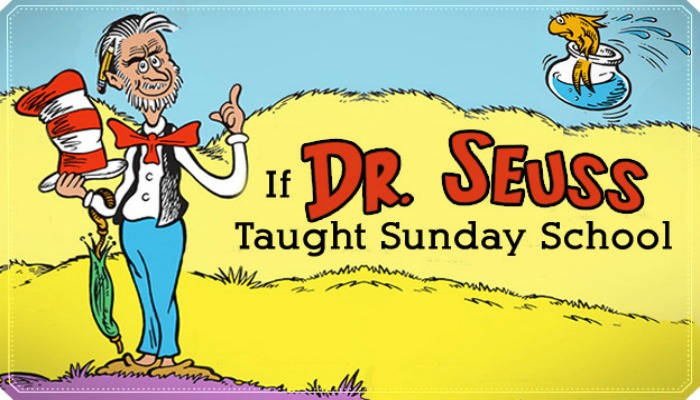 The following article was written by Jannalee Rosner and Danielle Beckstrom for LDS Living. 
His words make us giggle, his words make us cry. There's no place for doubt, he's one terrific guy. But whether you're a Who or a Jiggle Micpuff, his words mean much more than the regular stuff. They help us to see worlds out way far into space, and remind us of principles from a heavenly place. So, we hope you enjoy and we hope you will grow from that famous Dr. Seuss who says so much more than you know.
He would use the Grinch to teach about the value of heavenly treasures.
The Grinch in How the Grinch Stole Christmas is a prime example of someone having his heart set on earthly treasures. But when he sneaks into the village of Whoville and takes all of the presents, decorations, and toys that he thinks make the Whos happy, he learns that their happiness comes from somewhere deeper:
"And he puzzled three hours, till his puzzler was sore.
Then the Grinch thought of something he hadn't before!
"Maybe Christmas," he thought, "doesn't come from a store."
"Maybe Christmas…perhaps…means a little bit more!"
And what happened then? Well…in Whoville they say,
That the Grinch's small heart Grew three sizes that day!"
If Dr. Seuss were our Sunday School teacher, we're sure he would point out that earthly possessions are not what makes us happy in life. We are reminded in Matthew that "For where your treasure is, there will your heart be also." And likewise in D&C 130 we are reminded that "Whatever principle of intelligence we attain unto in this life, it will rise with us in the resurrection. And if a person gains more knowledge and intelligence in this life through his diligence and obedience than another, he will have so much the advantage in the world to come."
Let's remember the lesson the Grinch learned and be careful how we arrange our priorities.
He would use Thidwick the Moose to teach about giving our burdens to the Lord.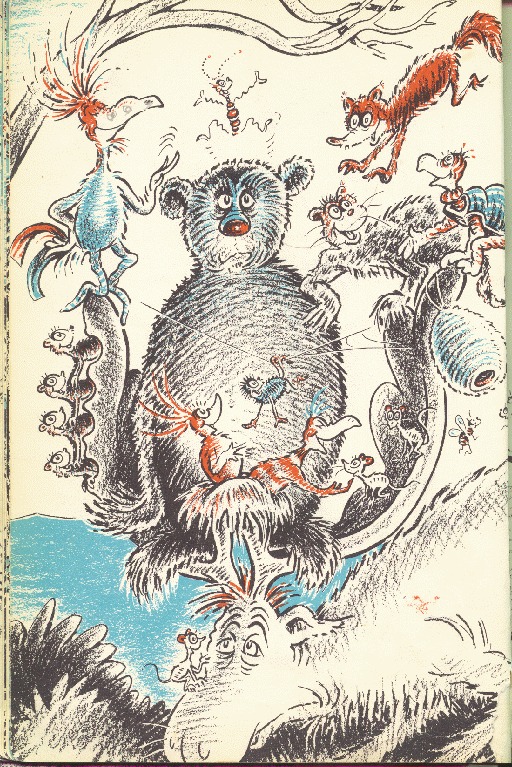 Thidwick the Big-Hearted Moose tells the story of a moose who is too big-hearted to say no.  It begins with Thidwick roaming around Lake Winna-Bango when a bug lands on his antlers and asks for ride. Thidwick allows the bug to stay, but the bug soon invites a tree spider, a Zinna-zo bird, the Zinna-zo bird's wife, a woodpecker, Herman the squirrel and his family, a bobcat, a turtle, a fox, and their fleas, a bear, and 362 bees to join. Soon, Thidwick is carrying an awful weight and being chased by hunters, all because he couldn't say no to the bug.
"This bird," murmured Thidwick, 'is sort of a pest!
"But I'm a good sport, so I'll just let him rest,
For a host, above all, must be nice to his guest."
It can be easy to accept a task when it's so small and insignificant. Soon, though, we can find ourselves overburdened with not only our own struggles, but the struggles of others because we are seeking to be helpful. Always remember that we, like Thidwick, can shed ourselves of our burdens and place them on the Lord.
The Savior invites us to "Come unto me, all ye that labour and are heavy laden, and I will give you rest. Take my yoke upon you, and learn of me; for I am meek and lowly in heart: and ye shall find rest unto your souls. For my yoke is easy, and my burden is light." (Matt. 11:28-30)
We can always keep ourselves big-hearted and striving to help others; we just need to remember that we don't have to keep our burdens and struggles all to ourselves.
Read Rosner and Beckstrom's full article at ldsliving.com.