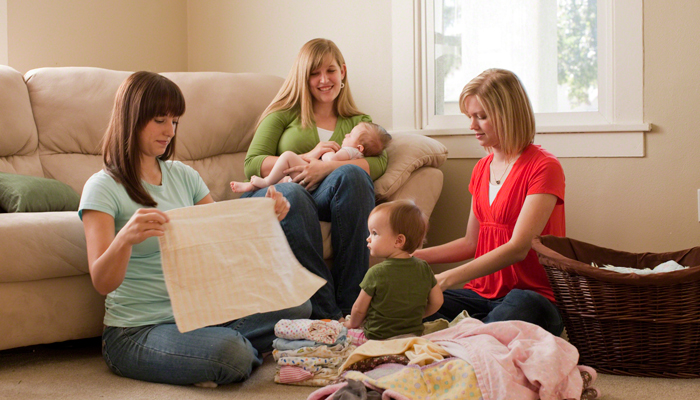 You need good ideas for visiting teaching. We have original visiting teaching ideas.
My best visiting teachers often served me with cooking. New desserts and casseroles came almost monthly. But if I made my sisters eat my food, I'm not sure it would be a service. I've needed to come up with out-of-the-box ideas, so here they are for your benefit.
Text Her
We all spend so much time on our phones, so use it to your advantage! Set up a group conversation between you, your companion, and your sister. You can keep each other updated and stay in contact at the same time.
Serve Her
The question "can we do anything for you" is not very productive. Take the initiative instead! There are always opportunities to serve someone. Take out the trash, help with yard work, or babysit the children. Nothing brings people closer than Christ-like service.
Spend Time With Her
Visiting teaching doesn't have to be a once-a-month visit. Actually, it shouldn't be. Spend time with your sister and get to know her outside of church. Your goal is to become good friends!
Share Inspiring Messages
Social media is a great place to spread inspiring messages. If you see something you like, send it to your sister! It may brighten her day, or it could be exactly what she needs.
Invite Her to Activities
A great way to get a less-active sister involved is to invite her to activities before they happen. Sometimes all that is stopping them is the need to feel like they'll have someone to hang out with! That's where you come in.
Leave Her Notes
If you don't have time to see each other, a note can convey your love nearly as well. It's also good for sisters who may not come to church regularly.
Carpool to Church
If everyone is driving to the same place, you may as well save the gas money. Those extra moments together could turn into a great friendship.
Pray for Her
Praying for your sister is a personal way to do your visiting teaching.
Socialize at Church and Activities
Your sister is your friend! Don't be afraid to seek her out at church and ward activities. You show her you love her when you actively try to spend time with her.
Remember Birthdays
Nothing makes you feel more special than birthday wishes! Find out your sister's birthday by stalking the ward directory or her Facebook profile and save it to your calendar. When the special day comes around, let her know you love her!
Go to the Temple with Her
If you have a temple nearby, plan a trip to go with your sister. You can even find the names together.
Stay Updated on Her Life
Watching her Facebook wall will keep you updated with the things going on in her life. Then when you get together, you can skip the small talk and get straight to the good stuff.
Help Her with Home/Housework
Both things no one really likes to do. Your sister would appreciate the help wherever you can give it.
Keep Her Company on Errands
Two is better than one, especially when you have errands to run. Grab your grocery lists and go together!
Investigate Her Interests
Once you know what she's passionate about, look into it! You might even find something new that you can enjoy together.
Share a Message During Hard Times
You could be an answer to her prayers. Seek the spirit and share Christ's love for your sister.