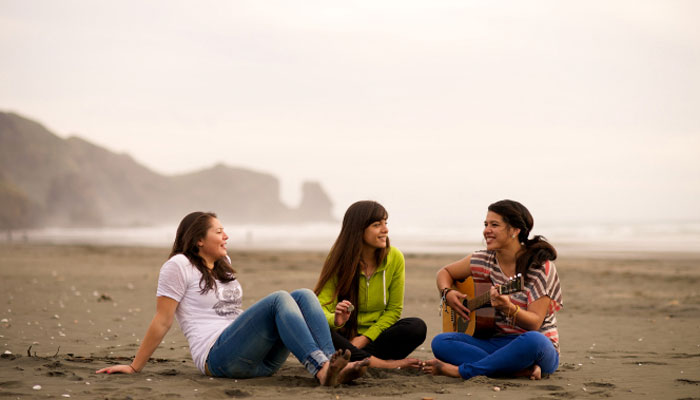 We often convey our religious belief through spoken words and sharing our teachings. We suggest that friends attend church, read scriptures, or visit with the missionaries. Sometimes we bear our testimony to people, even strangers.
However, we forget that being a positive example can be a stronger influence. People are always watching and will notice our Christlike living.
Actions speak louder than words.
My teammate was a positive influence in my life while I was attending BYU, where I started as a non-member. She never once shared the gospel with me. Instead, she set an example through her Christlike lifestyle.
To this day, my husband, friends, and ward members set a positive example in my life. We should always set a positive example to people of different faiths and to people in our own church.
(11) Go forth among the Lamanites, thy brethren, and establish my word; yet ye shall be patient in long-suffering and afflictions, that ye may show forth good examples unto them in me, and I will make an instrument of thee in my hands unto the salvation of many souls.

Alma 17
The Power of Example Can Shine as a Light to the World

I maintain that it is the absolute duty of each and every member of the Church of Jesus Christ of Latter-day Saints to so order his life that his example will be worthy of the imitation of all men, thus bringing credit and blessings to himself and his posterity and also making friends for the work of the Lord. This should be the loftiest ambition of every Latter-day Saint.

The Power of Example
President Heber J. Grant
All of us with a testimony are encouraged to share the true church with those who don't know the truth. We can set an example in our every day life by being diligent, faithful, humble, and by serving god, which can lead others to investigate the true Church. We are the Christlike examples that will open up that passageway for them.
"May the Lord bless you one and all, and bless every honest soul upon the earth, and help every Latter-day Saint to so live that his example will shine and that it will help to bring others to a knowledge of the truth."

The Power of Example
President Heber J. Grant
Mormon Employees Leave an Impression

President N. Eldon Tanner said, "The example we set before the world will determine, in large measure, whether we gain friends or enemies."
Each member is asked to live according to the standards of the Church, adhering to the precepts of the gospel and keeping the commandments of our Lord and Savior Jesus Christ.
President N. Eldon Tanner read a story about what can be accomplished through the power of good example. An assistant manager hired two Mormon girls that left a strong impression that he'll never forget. They were honest, dependable, neat, and clean. The two girls were the best employees he has ever had.
The assistant manager met with LDS missionaries through his son. He shares, "I have found that the things I admired in those girls 10 years ago are also found among the Mormon adults I have met. I like their emphasis on the family and they seem to me like the happiest group of people I have ever met."
"How wonderful it would be if all of us could make that kind of impression on those with whom we come in contact."
Read the full article at LDS.org.
Ecuadorian Sets Example Through His Actions

When Carlos Perez served in the Ecuadorian army, all of his fellow soldiers were watching him. They knew he was a member of the LDS Church and would often tease him for his beliefs. Instead of getting discouraged and lowering his standards, Carlos decided to try to apply what he had read from the Book of Mormon to his every day life.
One day, his friend's feed from his automatic rifle was missing. Everyone was searching for the feed and couldn't find it. They started looking in everyone's footlocker and found the feed in Carlos' footlocker. The captain called him over and said "I know what your conduct has been all this time, and I know you didn't do it." He was able to receive support from all of the officers.
Until that moment I hadn't fully realized the blessing of obedience or the power of example.
Through his example, one of his friends met with the missionaries and decided to get baptized.
Read the full article at LDS.org.
Don't Give Up, Keep Going

Being an example isn't easy. There will be times where members get discouraged because they feel that their example isn't impacting anyone's life. They'll encounter people who will criticize their religious beliefs. A feeling of discouragement may take over their heart and mind that they almost lose hope. However, they continue to be a positive example because they believe that those around them will one day investigate the Church. It make take weeks, months, or even years before they make that decision.
There were many times I felt discouraged when I became a member. People were always trying to put me down and say that my religious beliefs were silly. I had people asking me why I don't drink anymore. Also, my friends made remarks such as "they don't drink because they're Mormon" or "they don't gamble because they're Mormon" about my husband and me. One of my closest friends tried to convince me that I should go to Vegas and drink to celebrate my 21st birthday. Someone else also made a comment to me saying "that dress would be cuter if it didn't have sleeves." I even have extended family members making remarks about the LDS Church. One of them asked my husband if he's going to have multiple wives. They try to convince us that our beliefs are stupid.
I started to lose hope from all of these experience and wanted to give up. I no longer felt motivated to set an example to those around me. However, my husband shared that I shouldn't stop setting an example. He expressed that I need to continue being a positive example because it will impact others. They will notice our happy, healthy life because of the gospel.
When Gale, the managing editor for mormonhub.com, lived in the Greece Athens Mission, she heard a story about two missionaries making an impact at a bus stop. There were two sisters who rode the bus to work every day. Each day, they waited at the bus stop with the two missionaries and left with this peaceful, happy feeling. They felt safe and protected when they were around them. They shared the feelings with their mother, who found this surprising enough that she tracked down the missionaries to find out why her girls had those feelings. Later, the entire family converted.
It's the little things that count too.
Honesty, integrity, uprightness, morality, observance of the Word of Wisdom, and all the revelations concerning ideal behavior should be exemplified in our own lives, and we will then become proper examples for others to follow.

The Power of Example
Elder Delbert L. Stapley
Council of the Twelve