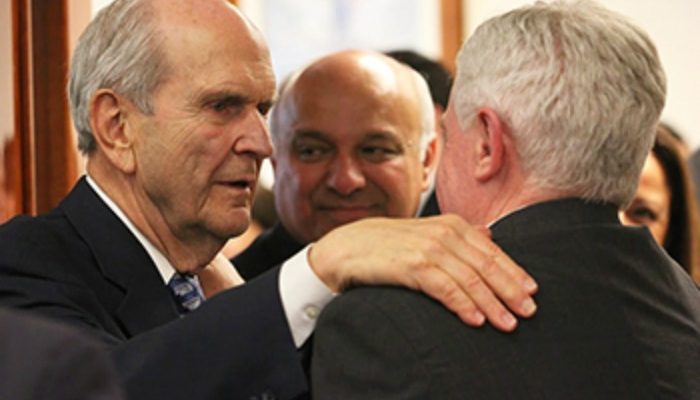 Three general authorities for The Church of Jesus Christ of Latter-day Saints traveled to South America to visit and meet with missionaries, local leaders and members in the area as part of an area review trip. Elder Russell M. Nelson and Elder D. Todd Christofferson of the Quorum of the Twelve Apostles and Elder Craig C. Christensen of the Presidency of the Seventy were accompanied by their wives.
Although the trio made the trip together, much of their time was spent apart so that they could visit with as many people as possible. Church News reports that Christensen said,
We were able to interact with over 60,000 members and missionaries, … including almost every Area Seventy.
While visiting the southern countries of South America, the general authorities presided over many missionary meetings where they took the time to meet and shake hands with every single elder and missionary in attendance.
Church history was also made during this trip as Christofferson became the first apostle to visit the town of Ushuaia, located at the southernmost tip of Argentina. In addition to having the opportunity to meet with the saints, these area review trips allow the brethren to meet in priesthood leadership conferences and provide counsel to stake presidents, bishops, and other local leaders. These conferences are held with the hope of achieving the following two objectives:
To increase their faith in God and in the Lord Jesus Christ and in His Church

To strengthen their families so they can qualify for all the blessings that God has in store for them in our holy temples
The wives who accompanied their husbands also held sister auxiliary meetings that women attended in large numbers to hear the message the general authorities' wives had to share.