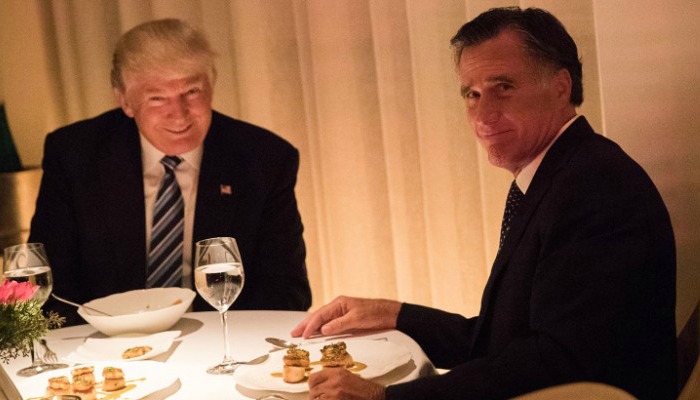 As former outspoken Never-Trumper and current Latter-day Saint, Mitt Romney, continues to vie for the position of Secretary of State in the Trump cabinet, social media is having a field-day. A recent photo snapped at a Tuesday night dinner meeting with president elect Donald Trump shows Mitt about to dig into his diver scallops. But with his face in the photo reading S.O.S more than future S.o.S — the public has taken to twitter to empathize.
1.
Mitt Romney is me every time I go on a first date pic.twitter.com/659nSst6rg

— Hunter Schwarz (@hunterschwarz) November 30, 2016
2.
https://twitter.com/Olivianuzzi/status/803777241020776448?ref_src=twsrc%5Etfw
3.
— Gideon Resnick (@GideonResnick) November 30, 2016
4.
When your friend sets you up and asks how it's going pic.twitter.com/PPRC8oUuMF

— Jason Wells (@JasonBretWells) November 30, 2016
5.
I'll never believe that dinner wasn't just two hours of Trump asking Romney where Joseph Smith's gold tablets are

— SoulCycle instructor (@Moose_Bigelow) November 30, 2016
6.
For the first time in his life, Mitt Romney is All Of Us. pic.twitter.com/e8TyFgmtDl

— An Absolutely Remarkable Thing Comes Out in 4 Days (@johngreen) November 30, 2016
7.
Mitt Romney's worst tinder date ever pic.twitter.com/atW9680C5C

— Jana Hisham (@JanaHisham) November 30, 2016
8.
Wait pic.twitter.com/4WQl67vGe0

— Marc (@MarcSnetiker) November 30, 2016
9.
I found the uncropped version of that Trump and Romney photo. pic.twitter.com/VdeLh3QnB1

— neontaster ??? (@neontaster) November 30, 2016
10. 

Though some are chastising Romney for his camaraderie with a man for whom he expressed such public disdain, he has accomplished the seemingly impossible: uniting the internet with a single glance (even if it is at his own expense).