A graduate of Brigham Young University survived being smashed between two semi-trucks in a 26-car pile-up in what he calls a miracle.
While driving down an Oregon interstate, 27-year-old Kaleb Whitby tried braking after seeing the semi in front of him jackknife while driving downhill. Due to the wintery conditions, Whitby hit some black ice causing him to slide on the road. Whitby told KSL,
I tried to somewhat steer to the right side of the road and I ended up hitting the trailer right at the back corner, so it smashed my front end in, and when I hit, it shut my pickup off, so I was pretty much helpless there.
It was then that Whitby looked out the window of his pickup and saw another eighteen wheeler coming toward him. Whitby recalls that moment, saying,
I turned right back, closed my eyes and said a prayer that I'd be safe and I do believe, and I'm very firm in that, and I just held onto the wheel as tight as I could, tucked my head and just kept praying the whole time.
The eighteen wheeler smashed into Whitby's pickup, leaving nothing but the area around his seat intact. Whitby says that it is nothing short of a miracle that he is alive, walking away from the accident with only one bruise and a few scratches. Whitby believes that if the semi would have pushed him any further, he would be dead.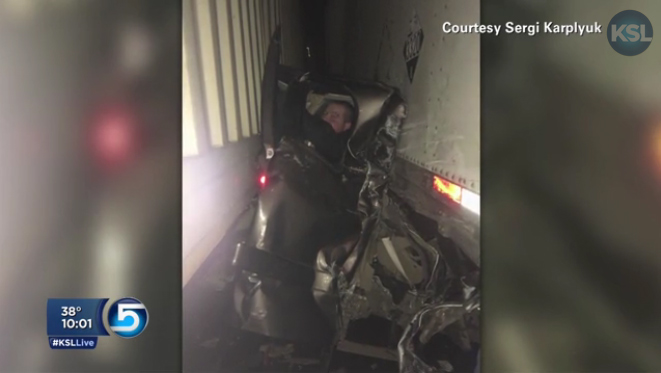 Surviving such a horrific experience has renewed Whitby's strength and has him wondering why he survived, wondering if he should do something greater and with more purpose in his life. He says,
Now I need to figure out who I need to be in this life and what I need to accomplish.