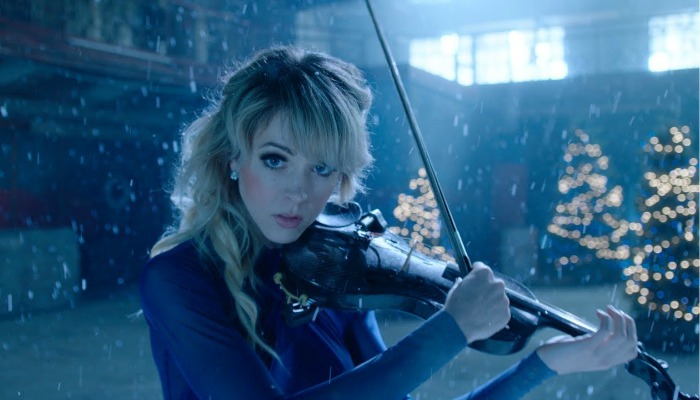 We have patiently waited and at long last the time has come! Thanksgiving is over, and it is now socially acceptable to start playing Christmas music! Huzzah! (I'm gonna be honest though, I have already been playing Christmas music since the end of October…)
Buckle your seatbelts ladies and gents because we have picked out just a few of the BEST Christmas covers by artists who are members of The Church of Jesus Christ of Latter-day Saints. Enjoy!
1. Carol of the Bells by Lindsey Stirling
Not only does Lindsey Stirling kill this performance, but the music video also blows me away every time I watch it—absolutely beautiful!
2. What Child is This?/I Wonder As I Wander by GENTRI
Two unique songs are molded perfectly into one with this performance by The Gentlemen Trio.
3. It's the Most Wonderful Time of the Year by BYU Vocal Point
Looking for something more upbeat that you can dance to? This is the song for you!
4. Oh Come All Ye Faithful by the Tabernacle Choir at Temple Square and Laura Osnes
I feel like Laura Osnes was born to sing Christmas music. She also performs several other powerful Christmas songs along with the choir at the concert A Christmas to Remember.
5. O Holy Night/Ave Maria by The Piano Guys ft. Lexi Walker
Every time I hear Lexi Walker's voice I am left in awe of her powerful vocals. Combined with the Piano Guys' beautiful accompaniment, how can you go wrong?
6. God Rest Ye Merry Gentlemen by David Archuleta
This song is just one of many released in David Archuleta's new Christmas album—Winter in the Air.
7. Have Yourself a Merry Little Christmas by Madilyn Paige
I don't think you can fully prepare for Christmas without hearing this song. You're welcome.
8. Little Drummer Boy (African Tribal Version) by Alex Boye ft. Genesis Choir
Yet another upbeat Christmas cover that will have you bouncing in your seat. You have our full permission to get up and start dancing.
9. O Come, O Come, Emmanuel by Jenny Oaks Baker
Looking for a calming Christmas instrumental? This is the perfect song for you.
10. O Holy Night by Nathan Pacheco
Nathan Pacheco has such a soothing voice! If you haven't yet heard his amazing cover of The Prayer with David Archuletta, you need to hear it right now!
11. I Saw Three Ships by Jennifer Thomas
We gotta add just one more fun Christmas instrumental—Jennifer Thomas' piano and violin skills are on point!
Bonus: You're A Mean One, Mr. Grinch by Lindsey Stirling ft. Sabrina Carpenter
Yes, it's another Lindsey Stirling song. She recently released this music video on YouTube, and it already has over 3 million views!
What are some of your Christmas favorites? Comment below!