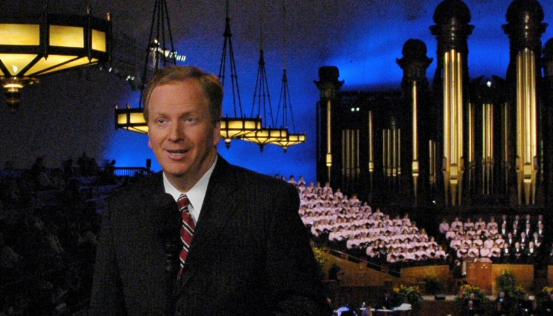 Since 1990, Lloyd David Newell has been a mainstay in the Salt Lake Tabernacle as the host of Music and the Spoken Word, the longest-running nationwide broadcast in the world. When Newell heard that auditions were being held for a backup announcer position in the spring of 1990, he auditioned and was chosen for the job. When Spencer Kinard left the announcer position later that year, Newell stepped in while they looked for a replacement. After a few months, President Gordon B. Hinckley extended the call to Newell to serve as announcer for Music and the Spoken Word.
Every week for over 100 years, an uplifting message of comfort, also referred to as a sermonette, is presented alongside world-class music from the Mormon Tabernacle Choir and Orchestra at Temple Square. The spoken word messages are nondenominational and present universal principles. Newell has said that the broadcast is not about preaching for any particular church but noted, "It's simply a gift from the Church to people everywhere." The messages are planned six weeks in advance when Newell meets with Choir Director Mack Wilberg to discuss the music and themes for upcoming broadcasts.
Newell recalls that when he received his calling, Gordon B. Hinckley told him, "This call will change your life." Over the past 24 years and after receiving many letters from thankful viewers, he has come to realize the truth in that statement. Contrary to what some people believe, the position is in fact a calling; Newell once said, "A man came up to me once after a broadcast, and he had a bit of a chip on his shoulder. He said, 'It must be nice to get paid all that money for half an hour a week.' I explained that it takes much longer than a half hour, and I don't get paid for it."
Read the rest of the article at the Mormon Tabernacle Choir blog.