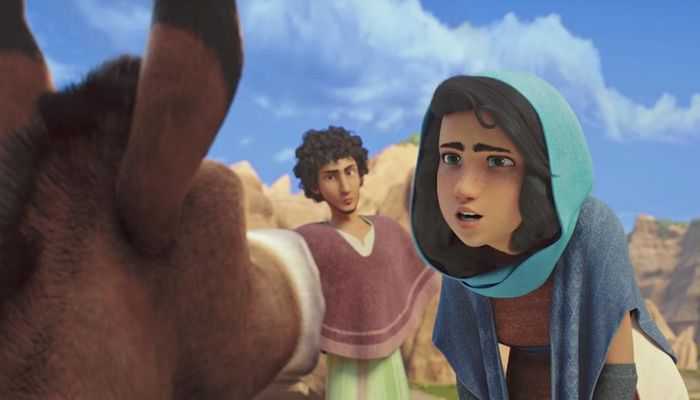 Movie Title:     The Star
Grade:  B+


Rating: PG, 1 hour 26 minutes
In a Nutshell: Walden Media and Affirm Films (owned by Sony Pictures) present a very sweet animated movie for Christian families this Christmas.
While the movie isn't entirely accurate to the actual Bible, The Star is still very well done and a wonderful way to celebrate the reason for this Christmas season, especially with your little ones.
Uplifting theme: 
"We're meant for something greater than this."  – Bo (Steven Yeun)
"Just because God has a plan doesn't mean it's going to be easy." – Mary (Gina Rodriguez
"Follow your heart.  Follow the light.  Follow that star." – The Star – Original Motion Picture Soundtrack sung by Mariah Carey
Tips for parents: 
Because the target audience is children, you can expect some poop and fart jokes.
No profanity.  Very clean.
The doctrine isn't entirely correct, but it's still a good introduction for little ones to learn the story of Jesus Christ's birth.
It's always refreshing to have Christian movies at the theater.  The more we support them, the more they'll be made.
Things I liked:
Cute opening with appealing music while we watch the pygmy gerboa bounce around through the town.  Kristen Chenowith is the perfect voice for this adorable creature.
The animation is simple, yet detailed and rich.  The hair, for example, looks textured and real.
I have been a fan of Gina Rodriguez since I first started watching her on Jane the Virgin: Season 1, which role actually won her a Golden Globe for Best Actress in a TV Comedy.  She gives Mary a practical voice that is also tender and sweet.
The wonderful Christopher Plummer voices Herod the King.  It's so great to hear his voice again.
Mary named the donkey "Bo", so of course that caught my attention, because my youngest son's name is also Bo.  Steven Yeun voices Bo.
The Star – Original Motion Picture Soundtrack is great with upbeat versions of classic and modern Christmas carols.
A large part of the movie focuses on talking animals.  They learn and teach each other important life lessons while having silly adventures.
This is Oprah Winfrey's 4th time lending her voice to an animated character.  She plays Deborah the camel.
This is Walden Media's first animated film.
Mariah Carey voices "Rebecca the hen", but also wrote and sings the theme song of the movie.  Another singer, Kelly Clarkson voices Leah the horse.
Other voice talents include Keegan-Michael Key, Tyler Perry, Tracy Morgan, Gabriel Iglesias, Patricia Heaton, Kris Kristofferson, and Anthony Anderson.
Things I didn't like:
Christians who know the story will be able to read between the lines.  For example, you hear someone say, "Joseph!", but you don't see the angel Gabriel who appeared to him and explained what was happening with Mary.
Do I dare say it's a little bland?
Non-Christians will probably dismiss this movie as rug-rat indoctrination.
Some of the humor is cliched and falls flat.
Mary's espoused husband, Joseph, is a bit whiny and mad a lot.  I always pictured him differently.  He certainly was supportive and kind and had to be amazing in order for God to choose him to raise His son.