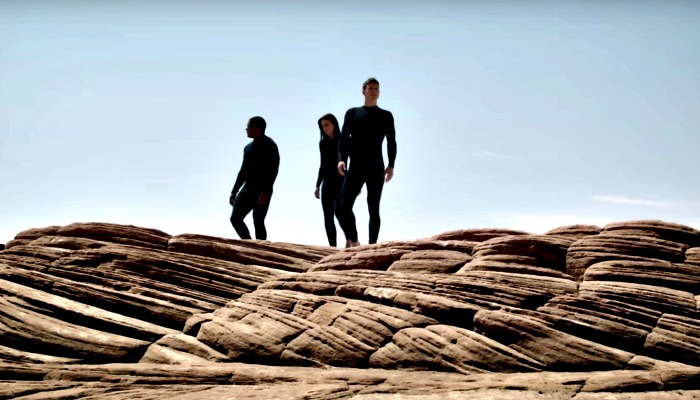 Ender's Game fans, man the couches. Come October 1st, Orson Scott Card's latest creation, "Extinct," will be premiering exclusively on BYUtv.
Four-hundred years after the extinction of humanity, an alien race revives a small population of humans. Though the aliens claim their goal is to restore the human species, the new humans uncover evidence to the contrary.
Extinct carries the colony of revived humans through struggles with the aliens who extinguished humankind centuries before — while trying to understand and get along with the mysterious aliens who revived them. Nothing is as it seems to be, and if they aren't careful, courageous, and unified, they'll find themselves under the control of one group or the other.
Co-written by New York Times best-selling author, Aaron Johnston ("Earth Unaware," "Earth Afire," "Earth Awakens"), and directed by Ryan Little ("Saints and Soldiers," "Outlaw Trail"), the talent on Extinct is out of this world — pun intended.
Starring Chad Michael Collins ("Sniper," "Freakish") and Victoria Atkin ("Assassin's Creed: Syndicate"), the series also features such great actors as Jaclyn Hales ("Unicorn City"), Yorke Fryer ("How to Get Away with Murder"), Jack Depew ("Mad Men," "The Fosters") Matthew Bellows ("Grimm", "Fuller House") and Jake Stormoen ("Mythica").
Mormons in Space
If you're looking to fill your sci-fi fix before October, Syfy channel's "The Expanse" may be just what you're looking for. Syfy president, David Howe, says the series may be the channel's most ambitious project since "Battlestar Galactica."
Set 200 years in the future, "The Expanse" follows humanity as they overcome newfound issues that come with colonizing the solar system. The series has war, intergalactic travel, and plenty of tension — as well as a minor Mormon subplot.
In the third episode of the series, a missionary appears, clad in his white shirt, tie, and name badge. The elder approaches two of the main characters and tries an interesting tactic:
"Excuse me, sir. Do you like to laugh?" he says. "I know what you're thinking — Mormons aren't funny. But we have a comedy night at the Laugh Shop once a week, and I'd love to prove you wrong. Can I put your name on the list tonight?"
In the fourth episode, the main characters meet an unnamed LDS official and learn the Church is in the process of constructing a large ship, The Nauvoo. The vessel will take members to planets orbiting a distant star in order to escape persecution…
Sound familiar?