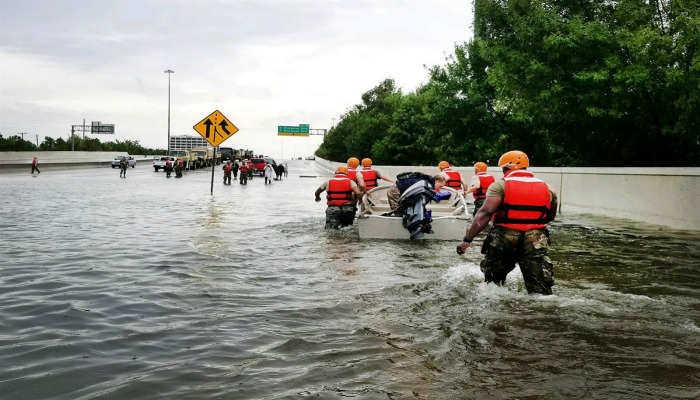 National Guard and Texas National Guard troops braved Houston's flooded streets and highways rescuing stranded citizens as Hurricane Harvey dumped over 1 trillion gallons of water across the area. All 12,000 of Texas' National Guard troops mobilized after Hurricane Harvey hit.
The state estimated that 30,000 people whose homes are flooded are seeking refuge throughout Texas. Officials anticipate that 450,000 people will apply for disaster relief.
Mormon Helping Hands
As waters recede, another mobilization will occur—Mormon Helping Hands. Volunteers from The Church of Jesus Christ of Latter-day Saints and other volunteer agencies, including Catholic Charities, will help in the details of the aftermath providing manpower to local residents and doing everything from mucking out and cleaning homes to cutting down destroyed trees.
A Hotline Number is available for Hurricane Harvey victims to request assistance related to cleanup and recovery.
Hotline numbers:
800-451-1954
844-965-1386
The Hotlines are manned by volunteers who record the caller's information and assistance needed.  The volunteer then creates a work order that is assigned to volunteer crews.  As soon as the crews are able to access the affected area, they will come to the home and do the work needed.
These services are free.
Mormon Helping Hands activates volunteers from across affected regions and from around the country. Typically Helping Hands crews are on the ground as soon as they can safely mobilize and reach affected areas.
Last year, 5,000 Helping Hands volunteers activated to offer relief in Louisiana.
Bishops' Storehouse
Before Hurricane Harvey hit, The Church of Jesus Christ of Latter-day Saints sent trucks from the Bishops' Central Storehouse in Salt Lake City, Utah, loaded with water, hygiene kits, and cleaning kits to supplement supplies in the regional Bishops' Storehouse in Houston.
Volunteers help deliver water and these kits to those in need as well. These supplies, paid for by financial donations to The Church, are also free to people in Hurricane Harvey's path who are in need.