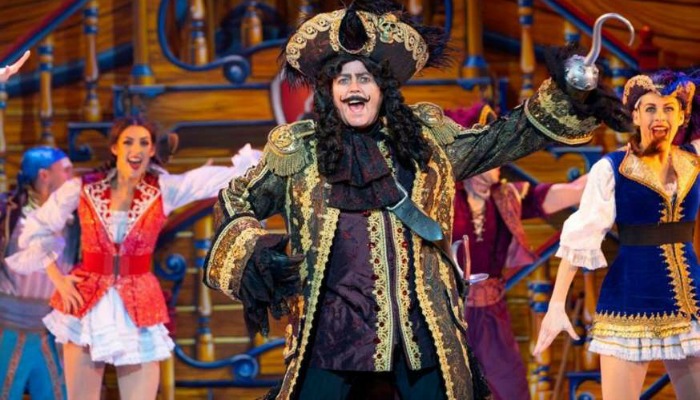 People Magazine for MSN has reported that Jimmy Osmond suffered a stroke while performing. Osmond, 55, is the youngest of the performing siblings and has been starring as Captain Hook in a pantomime performance of Peter Pan at the Birmingham Hippodrome theater in Birmingham, England.
Osmond powered through his performance and then was taken immediately to a hospital. The incident occurred on December 27th in an evening performance. As reported by the BBC, Osmond expressed gratitude to well-wishers and said he intended to take time off in the New Year.
"Everyone here at Birmingham Hippodrome has been deeply saddened to hear of Jimmy's sudden illness," Birmingham Hippodrome's chief executive Fiona Allan said, according to BBC News.
"Jimmy loved being a part of the Hippodrome's well-renowned panto, and his portrayal of Captain Hook was both dastardly and heartwarming," she continued.
"He won the adoration not just of our audiences, but also of all our staff — we all send Jimmy and his family very best wishes for a speedy recovery," Allan concluded.
Osmond's older sister Marie posted on Twitter:
Prayers for my brother Jimmy ?? https://t.co/XfjGHDMEf7

— Marie Osmond (@marieosmond) December 31, 2018
Her tweet has a long list of comments from fans and other members of the Osmond family.
Osmond previously suffered a stroke-like attack in 2004 in Utah. It was a transient ischemic attack that was the result of a hole in his heart that didn't close after birth the way it should have. At that time, the performer felt a pop in his head but attributed it to a migraine and drove himself home. Diagnosis was made with an electrocardiogram and a repair was made that fixed the problem, although Osmond felt some numbness for the following 10 years. Lifestyle changes helped his recovery and he had been well until this new incident.
Older brother Tom Osmond underwent quadruple bypass surgery in October 2018 and after complications, was put on life support. Tom is the second-oldest of the Osmond siblings. He and older brother Virl never performed with the group due to hearing impairments but did participate in other ways.