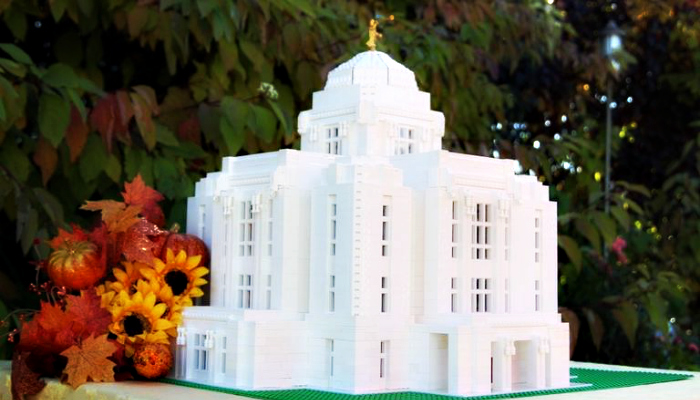 It's not the first temple model to be made out of Legos, but Ryan Thompson did this from scratch, and it's a scale replica of the Meridian temple. He's a software engineer; and for him, it was a pleasure to piece together 5,500 lego pieces without an official set of instructions. In fact, he has a whole room dedicated to his Lego projects.
It took Ryan a total of 80 hours to design and 20 hours to build. If you want to see how he did it, you can watch a short video published on Idaho Statesman online.
Pretty similar, huh?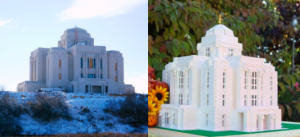 Ryan used a Lego CAD program to help him make the blueprints. The mini Meridian Temple is 3 feet wide, 3 feet high and 3 feet deep, set to a 1/60th scale. It even has an angel Moroni on top which Ryan painted gold. Moroni's trumpet is innovatively made of a Lego flagpole.
Bricks & Minifigs, a Lego store at 10150 W. Fairview Ave. in Boise, will display Ryan's project during the temple's public open house from October 21st through November 11.
For Ryan, the dedication of this new temple is monumental. He and his wife Amber were married in 2011 in the Idaho Falls Temple. (He made a Lego model of that one, too—a huge hit at the reception, Ryan says.) He's bought tickets for the open house so that he can go through twice before the temple's dedication.
For those interested, the free public open house begins Saturday, October 21st and will continue until November 11th. The cultural celebration, performed by Meridian youth, will be on November 18th. The temple will be dedicated the following day beginning at 9 a.m.
For more information on the Meridian temple, visit churchofjesuschrist.org.