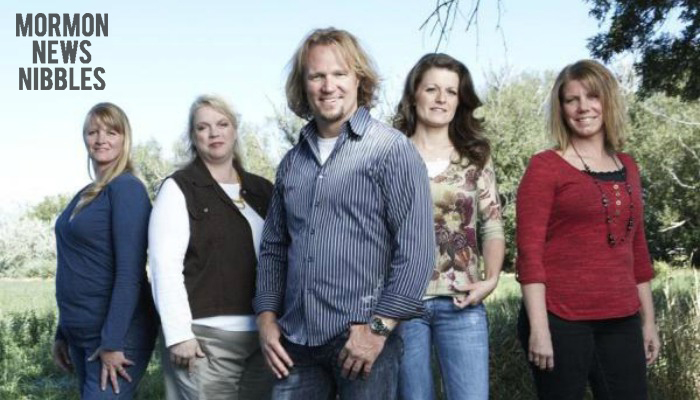 The 'Sister Wives' Family Wasn't Kicked Out Of The Mormon Church
… because they were never part of it to begin with. Let's not get confused here, there is a marked difference between fundamentalist Mormons and the door knockin', mono-wife havin' Mormons that are more prominent in mainstream media for relief efforts, MoTab, and Mitt Romney. We abolished polygamy over 100 years ago, and have not reached back for it since. Yet, there's still confusion over what Church the polygamists belong to, and its easy to see why…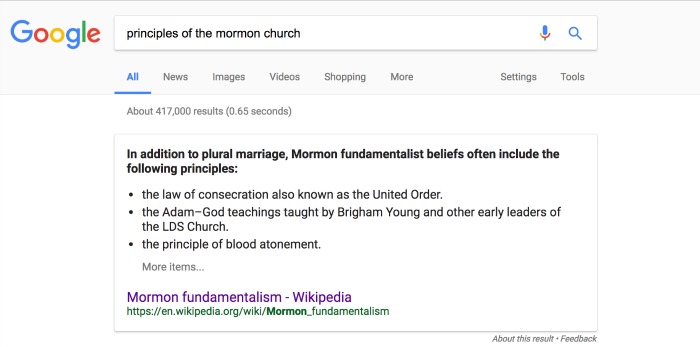 Even google has trouble distinguishing between the two groups. Though we really can't expect such "reliable" news sources as wetpaint.com to go through even that much trouble getting their facts straight, you'd think People Magazine might have at least made an effort with their own misleading headline. So it seems we'll have to break it down here on MormonHub — notice how it's not Fundamentalist MormonHub.
The Brown family was kicked out of the Apostolic United Brethren, a polygamist group that follows Mormon fundamentalism and is wholly unrelated to The Church of Jesus Christ of Latter-day Saints (i.e. the Mormon Church). The AUB severed its ties with the family because they drew too much negative attention to the AUB community through the reality show, 'Sister Wives.'
Had the Brown family been members of the actual LDS Church, they would have been excommunicated ages ago. An excerpt from the Second Manifesto, iterated by President Joseph F. Smith in 1904, solidified the Church's stance on plural marriage:
"If any officer or member of the Church shall assume to solemnize or enter into any such marriage he will be deemed in transgression against the Church and will be liable to be dealt with according to the rules and regulations thereof and excommunicated therefrom."
To recap: The Brown family never was a member of The Church of Jesus Christ of Latter-day Saints (commonly referred to as Mormons, a nickname trademarked by The Church of Jesus Christ of Latter-day Saints ), but they were members of the Apostolic United Brethren (a group that follows outdated "fundamental" Mormon teachings). The AUB practices polygamy, the Mormon Church does not.
Evan McMullin: Where Is He Now?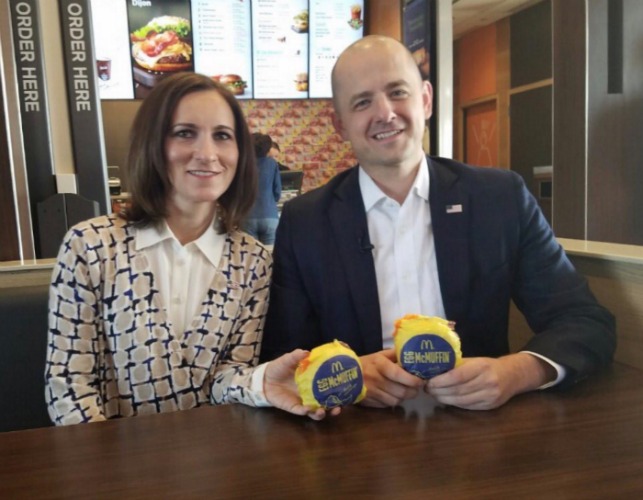 2016 was a whole different era — now, Americans stand at the cusp of a new time. Many fear for the future of our nation as a whole, while others hold out hope for a better USA. But buried deep in the nethermost regions of the American conscience is the united whisper, "What ever happened to Independent Candidate Evan McMullin?". 
McMullin burst onto the campaign trail like a kid already 5 minutes late to class, and he received the corresponding penalty. Despite not making the ballot for over half of the United States, McMullin's staunch never-Trump stance and wholesome values won the heart of 21% of Utah voters. McMullin came less than 100,000 votes shy of besting Democratic candidate Hillary Clinton in Utah, but didn't manage to surpass Trump's hefty lead.
A ray of hope during an ugly election season, Evan McMullin was a vanilla option for those unwilling to choose the lesser of two unsavory flavors. Together with running mate Mindy Finn, McMullin made the best of Trump's attempts to diss him, embracing the nickname McMuffin — and really, what's more wholesome-American than an Egg McMuffin?
Lately, Evan McMullin has been traveling around the country talking to people about what the country needs. McMullin says he still believes we need a new conservative movement under Donald Trump's presidency. While Trump will be a Republican president, he is definitely not a conservative president. Limited-government constitutional conservatives within the Republican party will find themselves out of place in a Trump-based Republican Party.
In a Primary Concerns interview on the New Republic, McMullin brought up mentions of a new party along the campaign trail. Though McMullin felt the country might not be ready for that at this moment, a Trump presidency might accelerate the need for a new conservative party.
For now, McMullin is focused spearheading this new conservative movement. He's already outlined their first task: to defend American democracy. This may require working with those who are not typical republican allies on "issues of existing commonalities." McMullin is currently in the process of working with supporters who are willing to help build organizations to do just that.
Until then, McMullin exists as a sharp voice on Twitter, criticizing Trump for his love-affair with Russia and calling out Sean Hannity.
Hear more on Primary Concerns.
LDS Bryan Roach Named New IMPD Chief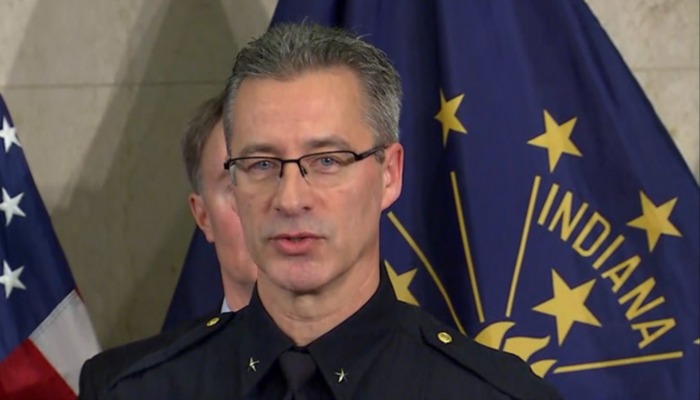 Indianapolis born and raised and seasoned with Mormonism, new Police Chief of the Indianapolis Metropolitan Police Department, Bryan Roach, is described as a soft-spoken but deliberate man. Slowly but surely, Roach has moved steadily up the ranks, now taking on the highest role.
"I'm confident that the men and women of the police department appreciate that vote of confidence," said Roach. "I feel I have been prepared by them and others in my life for this, which I believe to be a calling. I promise I won't let them down."
Roach's appointment comes after the surprise resignation of Troy Riggs, who stated the position was too low-paying at $117,187 a year.
Roach, father of three, was inspired to join the police force after serving his mission in Italy. He plans to serve as Police Chief for a minimum of three years, in order to ensure implementation of continuing justice reform plans.
Read more at the Indy Star.