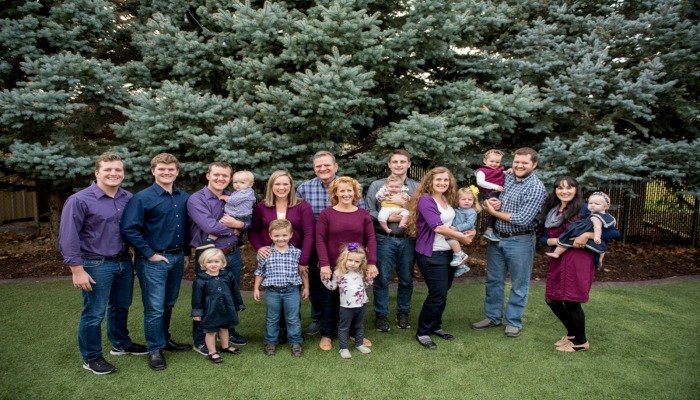 This article first appears on Deseret News:
SALT LAKE CITY — What started out as a simple Mother's Day gift has amassed more than 9 million views in just over a week.
The LeBaron family had no idea their home video of "One Day More" from "Les Miserables" would gain such popularity when the oldest son, Jordon, shared it with friends on Facebook.
"We recorded this because my mom wanted this as a present for her for Mother's Day," said Jordon LeBaron, 33, who lives with his wife and three children in St. George. "That's the only thing she wanted. So we got together and my brother pulled up the karaoke track. We ran through it a couple times and then we recorded it. We honestly didn't expect a response of this magnitude."
Heidi LeBaron Garn, 30, the second oldest who lives in Kaysville with her husband and three children, said it's not often all her siblings are together in one place. They decided to record a song when they were all together on Easter Sunday at their parents' home.
"I feel like the reason why this video was so powerful is because … it was a video of family coming together," Heidi said. "And I think that resonates, with everybody wanting to have that. It's deeper than the singing. It's the sense of family that people want."
The LeBarons, a family of five siblings, spouses and children who are members of The Church of Jesus Christ of Latter-day Saints, made national headlines last week for a musical performance in their living room that has gone viral. Broadway World described the LeBaron family as "the embodiment of every theatre kid's dream: a family full of talented theatre lovers who can belt out Broadway classics together."
Their video has also been featured by other news outlets such as the Today Show, People, Inside Edition and the New York Post, But for the LeBaron family, this video is about more than the song — it's about how music connects families.
Jordon LeBaron said with musically gifted parents, music has become a defining characteristic of their family. They grew up performing at work functions and in sacrament meetings, and three of the children went on to study music in college. They have musically talented spouses, too.
"It started off with my older sister and me and then turned into three, four and five," he said. "It's something we all have in common that ties us all together. It's something we love to do."
Heidi LeBaron Garn said though she and her siblings have different interests, music "has been one connecting point for us where we all agree."
Music has also been a source of support for the LeBarons during difficult times. After Jordon and Heidi's older sister Holli died in 2002, they relied on music to hold them together. Jordon described Holli as the "ringleader" who played cello and sang with perfect pitch.
"After she passed away, it was really hard on all of us, especially my parents, for several years following because it was so unexpected," Jordon LeBaron said. "During those dark years that we just had that emptiness after she passed away that comes with losing a loved one, we still had each other, and it helped us grow closer as a family."
Every time his family got together, they would gather around the piano and sing, Jordon said. For him, music is just as much a part of his life as the gospel is. Singing together has helped his family build each others' testimonies.
"We still, every time we get together, sing something from Broadway or we sing a church hymn, cool arrangement, or something my dad wrote," he said. "The music that we sing together has really helped strengthen the bond that we share. It's really been a positive, unifying attribute of our family despite the challenges."
Jordon LeBaron said it's been a special experience watching Landon, the youngest LeBaron sibling, who was diagnosed with autism, develop perfect pitch and become another contributing member to their family music group. Landon is currently serving a service mission at the LDS Church Office Building.
Though neither Heidi nor Jordon know what the future holds for their family and their music, they hope they can continue to share their talents with others, inspire families to spend time together and pass the love of music to their kids. This video could be the door to pursuing professional dreams many of the siblings have, they said.
"We put our performing aspirations on hold so we could have families and settle down and be established," Jordon LeBaron said. "We don't want to compromise our values or our beliefs about raising a family and being family-centered, but now … we might be able to honor our values at the same time."
"It seems like this experience has taught me that amazing things can happen and dreams really can come true if you're willing to take a chance," Heidi LeBaron Garn added. "You never know where something may go."
And in this case, Heidi said, their video didn't have to be professional to be powerful or moving. That's one aspect that has made their performance so popular — babies in hand, a child blocking the camera at one part and a few shaky shots — the raw footage of a family moment.
"Really, the most special and powerful experiences we have are just at home with our families in our living room with kids running around," she said.