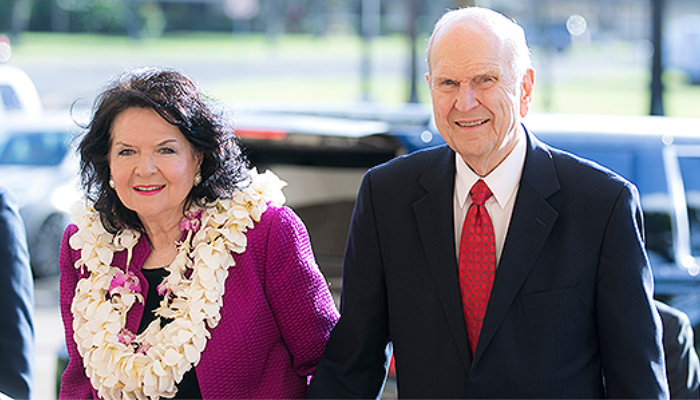 Not many people can say with confidence that their birthday celebration is going to be the party of the century — but our prophet, President Russell M. Nelson, (almost) can!
On September 9th, there will be 95 candles on the prophet's cake, just five short of a century's-worth of life lived — and this monumental birthday party is NOT going to disappoint.
The celebration honoring President Nelson's life of service will take place on Friday, September 6, 2019, at 7:30 p.m. MST at the Conference Center in Salt Lake City, Utah — and many Latter-day Saint celebrities will be joining in the fun. (Information about acquiring tickets can be found at the end of this article.)
Joining The Tabernacle Choir and Orchestra at Temple Square will be acclaimed violinist Jenny Oaks Baker and her children (Jenny Oaks Baker & Family Four), The Bonner Family, GENTRI, Nathan Pacheco, and Donny Osmond. The program will be emceed by former sportscaster and Oilers quarterback Elder S. Gifford Nielsen (of the Seventy) and former television news anchor Ruth Todd.
The program will be rebroadcast in several languages in addition to English for those who are unable to attend the event: ASL, French, German, Mandarin, Portuguese, and Spanish.
President Russell M. Nelson was born September 9, 1924, in Salt Lake City, Utah to Marion Nelson and Floss Nelson (nee Anderson). Age 16 was a big one for him — he was baptized (his parents hadn't been active during his youth) and graduated high school that year. He was a doctor by age 24 and became a world-renowned heart surgeon.
Then-Elder Nelson was sustained as a member of the Quorum of the Twelve Apostles on April 7, 1984, and after President Thomas S. Monson's passing, was sustained the 17th prophet of The Church of Jesus Christ of Latter-day Saints on January 14, 2018.
His birthday celebration will focus on his life of service, showing videos examining his career, family, and Church ministry.
Tickets for the event will be free (!!!) and will become available starting Tuesday, July 30 at 9:00 a.m. MST at ChurchofJesusChrist.org/events. Tickets will be limited to two per individual.
For more details about the event, visit the Church's website.