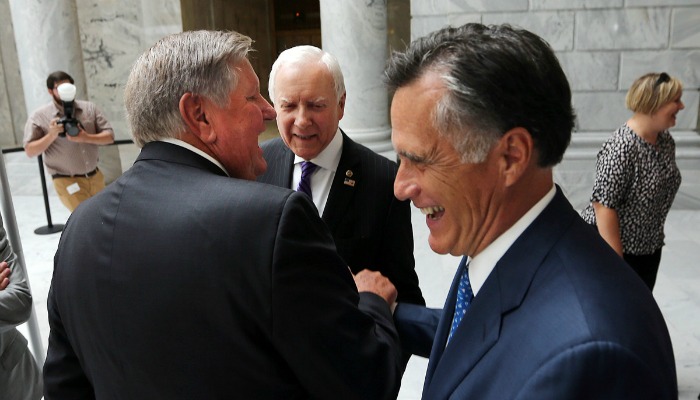 On December 29, 2017, The Washington Post ran an article called Run, Mitt, run, pleading with Mitt Romney to run for Senate. The first sentence reads like this: "Mitt Romney: Your country needs you." Everyone knew Romney would not enter the race unless Orrin Hatch of Utah announced that he would retire, but it seemed like people were getting desperate and just might want him to run even if Orrin Hatch were to go for another term.
This is Orrin Hatch's 84th year on earth and 42nd in the Senate. What seems to be upsetting people is a slavish devotion to Trump that Romney doesn't share. Romney would be a talented senior senator, but a foil to Trump.
Hatch is the most senior Republican in the Senate. He is chairman of the Senate Finance Committee, and Senate president pro tempore, third in the line of presidential succession.
On January 2, 2018, Senator Hatch announced that he would indeed retire at the end of 2018. Hatch called the Religious Freedom Restoration Act one of his proudest achievements.
"I've always been a fighter," Hatch said in a video announcement posted on YouTube and tweeted shortly before noon. "But every good fighter knows when to hang up the gloves. And for me that time is soon approaching."

He then said "after much prayer and discussion with family and friends, I've decided to retire at the end of this term." Hatch had spent the holidays with his family in Utah, debating what to do.
Responses to Senator Hatch's Announcement
Mitt Romney posted the following to Facebook:

Twitter lit up with the following reponses:
If elected to replace Orrin Hatch, Mitt Romney would join Sam Houston in the rare category of being governor from one state and senator from another

— Ben Jacobs (@Bencjacobs) January 2, 2018
As Hatch retires and Romney considers running to replace him in the Senate, let's hope the March 2016 version of Mitt Romney still exists. He described Trump perfectly: pic.twitter.com/jKaB4vovp3

— Brian Klaas (@brianklaas) January 2, 2018
Hatch says he's retiring, clearing the way for Mitt Romney to run for senate from Utah https://t.co/cSv8CzNR9b

— Jennifer Epstein (@jeneps) January 2, 2018
MITT ROMNEY'S SENATE AMBITIONS HAVE HATCHED

— Victoria Guida (@vtg2) January 2, 2018
Orrin Hatch announces he's retiring, paving the way for Sen. Donovan Mitchell

(sorry, just thought someone should mix it up.)

— Mike Hayes (@michaelhayes) January 2, 2018
.@Jasoninthehouse: If Mitt Romney Runs for Senate in Utah, He Will Win https://t.co/0fJeq1Hejn

— Fox News (@FoxNews) January 3, 2018
The Republican opposition to President Donald Trump is poised to get a new champion: Mitt Romney https://t.co/neVJizjorn pic.twitter.com/LyxkEczbl5

— CNN (@CNN) January 3, 2018
I am so excited for Mitt Romney to announce his Senate run so we can pull out all of the vintage "binders full of women" memes.#WednesdayWisdom pic.twitter.com/go3yC2nArG

— Holly Figueroa O'Reilly (@AynRandPaulRyan) January 3, 2018
Russian propaganda peddlers are very interested in the Utah Senate race. Topics/hashtags related to Orrin Hatch & Mitt Romney are dominating right now, per @SecureDemocracy's Hamilton 68 Dashboard.

The #2 trending hashtag? #NeverRomney pic.twitter.com/1fJ9mLUwRf

— Caroline O. (@RVAwonk) January 3, 2018
Listen, if Mitt Romney runs for the senate seat here in Utah & gets beat by a democrat, I will schedule my baptism with the LDS missionaries THAT DAY and convert to become a Mormon.

— Nish Weiseth (@NishWeiseth) January 3, 2018
What the Heritage Foundation says about Hatch's formidable legacy.