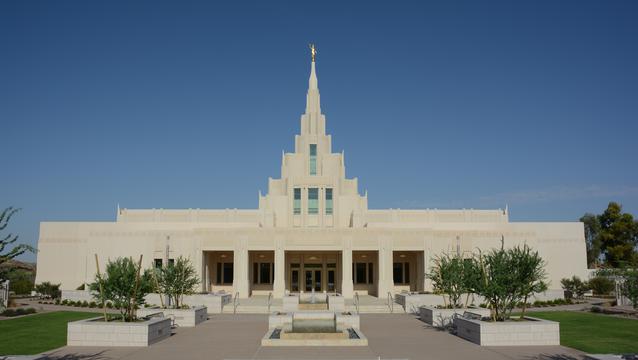 This announcement was made by Mormon Newsroom.
The First Presidency has announced open house and dedication dates for the Phoenix Arizona Temple of The Church of Jesus Christ of Latter-day Saints. The public is invited to visit the temple during an open house from Friday, 10 October, through Saturday, 1 November 2014, excluding Sundays. Free reservations for the open house can be made starting Monday, 29 September 2014 on the www.phoenixmormontemple.org website.
The temple will be formally dedicated on Sunday, 16 November 2014, in three sessions. In conjunction with the dedication of the temple, there will also be a cultural event featuring music and dance on Saturday, 15 November 2014.
Ground was broken for the Phoenix Arizona Temple on 4 June 2011. Elder Ronald A. Rasband, of the Presidency of the Seventy, presided at the ceremony and said the new building would be a "beautiful and magnificent temple" that will bless both Mormons and the Phoenix community.
Read the rest of the story at mormonnewsroom.org.