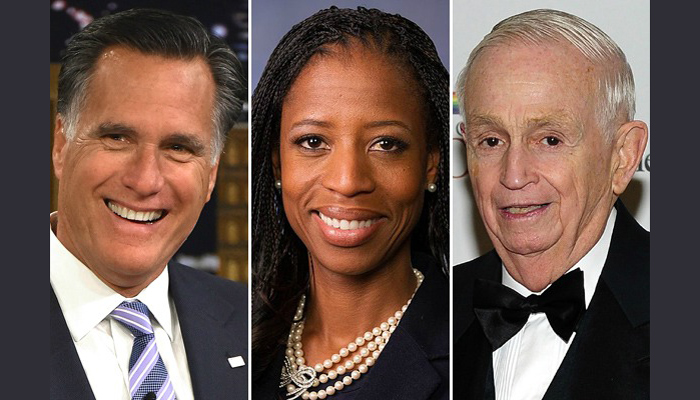 Newsmax published a list today of the 50 Most Influential Mormons in America. Here's how the online paper introduced the article:
Members of the Church of Jesus Christ of Latter-day Saints are important leaders in many fields, including government, economics, entertainment, science, education, and sports. Most would agree Mormons "over index" in many fields that affect millions throughout the world.
To compile the list, Newsmax editors researched many online sources and consulted with in-the-know members of the LDS Church. They called their findings descriptive and "informative" rather than definitive. While gathering the names was fairly subjective, ordering and ranking these Mormons' influence was even more so.
Some Mormon government leaders have been left out, because there are just too many. Newsmax gave precedence to those with special influence. For example, members of Congress who head important committees.
The top 10 on Newsmax's list are
Mitt Romney—Former Governor of Massachusetts, US presidential candidate
Bill Marriott—The executive chairman & chairman of the board of Marriott International
Orrin Hatch—Now in his seventh term as a U.S. senator for Utah
Jack Gerard—Currently president of the influential American Petroleum Institute (API)
Clayton Christensen—Kim B. Clark Professor of Business Administration at the Harvard Business School
Harry Reid—The U.S. Democratic senator from Nevada is the Senate Minority Leader
Mike Lee—U.S. Senator known for considering various points of view while conservative
Jason Chaffetz—Congressman, chairman of the House Oversight & Government Reform Committee
Jon Huntsman (Jr or Sr, your choice)—Businessmen, public servants, and philanthropists
Thomas B. Griffith—A federal judge for the U.S. Court of Appeals for the D.C. Circuit
To find out who those other 40 powerful Mormons are, and to read detailed descriptions of all these over-achievers' achievements, go to Newsmax.