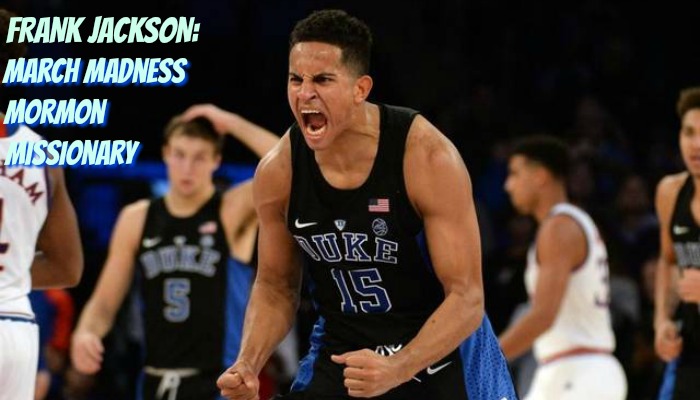 Frank Jackson is Mormon, from Utah, and playing for one of the best teams in college basketball—Duke University.
If you've never heard of him before then do yourself a favor and watch this:
A Star in the Making
Jackson was a 5-star recruit coming out of high school. That's extremely rare for anyone from Utah in basketball, football, or any sport. He was named Deseret New's 2016 Mr. Basketball, played for the USA Nike Hoop Summit Team, and was named co-MVP of the McDonalds All-American Game.
Jackson is currently a freshman and is averaging 10.7 points per game. Duke has played the 3rd most difficult schedule in college basketball this year, and most of Jackson's points have come in meaningful moments of games. He also averages 24.6 minutes per game, has a .473% field goal percentage, and is shooting .398 from beyond the arc.
A few weeks ago, Jackson played one of his best games against a talented Florida State team.
Not Serving a Mission But Still a Missionary
Before committing to Duke, Jackson had plans to serve an LDS mission and play basketball at Brigham Young University. Jackson broke BYU fans hearts when he decommitted and announced he would be taking his talents to Durnham, North Carolina. He followed in the footsteps of Jabari Parker and Jimmer Fredette–high profile Mormon athletes with NBA potential that didn't serve missions.
Some church member may criticize him but in my opinion it's not their place to judge. Although he is not serving the typical two year mission, there is a lot of good that he is doing.  ESPN wrote an article about Jackson and his difficult decision to serve a mission or play basketball for Duke.
Duke's Frank Jackson serving different kind of Mormon mission
Here is a snippet from that article about his decision not to serve a mission:
Saying no to a mission? That was altogether different.

"It was a really hard decision," Frank Jackson said. "Very hard."

There were no ultimatums and no pressure. Everyone — coaches, parents, friends — said they would honor whatever decision he made.

But how do you decide between a lifelong dream and a lifelong dream?

Jackson opted not to. He decided he could do both.

The purpose of an LDS mission is not simply to proselytize but also to live by example. Jackson realized that while he wouldn't immerse himself as Watanabe and his other friends will, he would have a pulpit and a platform that they don't have. Every interview, every television appearance offers a chance to explain what being a Mormon is — and more, it's a way to demystify the religion.

"I'm in the spotlight," Jackson said. "Everyone is watching us. I can use that as a chance to be a light in the world, in a sense, to show people how I live and what I believe."
Jackson does not shy away from sharing his Mormon beliefs. I found these retweets in his twitter feed:
Frank and the elders teaching the team after a great win 🙂 pic.twitter.com/6zZYnysxSy

— Tim Davis (@Prospects2016) November 5, 2016
@FrankFjack5 I am the biggest Duke fan around and now the biggest fan of yours, Got baptized a month ago b/c of meeting with missionaries.

— Michael (@mickpabst) November 4, 2016
Frank Jackson and my dear friends President and Sister James at a fireside in Fayetteville, NC.Happy I had a small part. #mademysunday #lds pic.twitter.com/AN4ttME50F

— Lynn Lloyd (@airbraves11) October 31, 2016
Duke is Looking to Make a Deep Run In March Madness Tournament
The Duke University Blue Devils are a #2 seed in the NCAA March Madness Tournament. They beat #15 seed Troy University 87-65 in the round of 64. Jackson started the game at point guard and scored 14 points, had 3 assists, 2 steals, and a rebound. They face #7 seed South Carolina Sunday night. Duke is one of the favorites to win the championship, and they certainly have the talent to do so.
You can cheer for whoever you want but I'll be cheering for Frank Jackson and Duke. He's a rising star, a Mormon, and he's only getting started.
*I apologize to all BYU fans who are still hurt that Jackson decommitted from BYU to play for Duke. Hopefully you can forgive him.