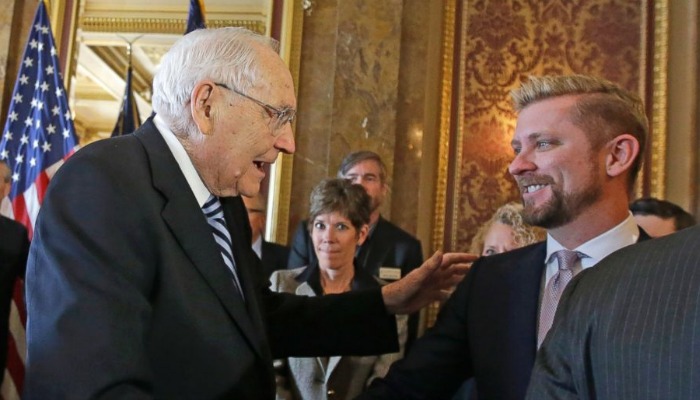 Leaders of The Church of Jesus Christ of Latter-day Saints supported and advocated the approval of Senate Bill 296, a bill that forbids discrimination against those in the LGBT community and secures religious freedom.
Senate Bill 296 was signed into law Thursday, March 12, 2015 by Utah Gov. Gary Herbert. Elder D. Todd Christofferson, a member of the Quorum of the Twelve Apostles, spoke to KUTV News about the Church's stance on anti-discrimination.
People are people, and they all deserve to be respected and honored and have their privileges as everyone else does in our society.
Although the LDS Church supported SB 296, the Church still firmly holds its stance of traditional marriage.
"[Traditional marriage] is such a fundamental aspect of what we see as the purpose of life," Christofferson said. "Marriage between a man and a woman and the family that grows out of that –- all of that is so fundamental to what has happened, what needs to happen here and what comes hereafter that, without it, it falls apart."
Christofferson was asked in the interview with KUTV News if church members would lose their membership or their temple recommend if they openly supported gay marriage, especially on social media platforms. Christofferson responded by saying that members may support gay marriage and may do so on social media, however church members cannot "support organizations that promote opposition or hold a position that attacks the Church."
Leaders of the Church affirm that the doctrine of the Church will stay the same despite it's progressive political stance. By being more accepting, the Church is able to open its doors to more people throughout the world.
Our approach in all of this, as Joseph Smith said, is persuasion. You can't use the priesthood and the authority of the church to dictate. You can't compel, you can't coerce. It has to be persuasion, gentleness and love unfeigned, as the words in the scripture.
Other states are considering taking a similar approach by following Utah's lead. In a recent article posted in an Arkansas publication, "Arkansas Online," the author praised LDS leaders and proposed that conservative Arkansas follow Utah's lead on supporting anti-discrimination laws.
Deseret News reports that Sarah Warbelow, legal director at the Human Rights Campaign, does not believe that Utah's approach is an appropriate model for other states, no matter how well it works for Utah. She explains that "Utah is fairly unique in the way it treats religious organizations, so (its laws) can't be lifted and imported into another state like Michigan."
Former Utah Gov. Mike Leavitt disagrees with Warbelow, saying that there is a lot of pain on both sides of the LGBT rights debate, and that Utah's approach may be a viable blueprint for other states to follow.