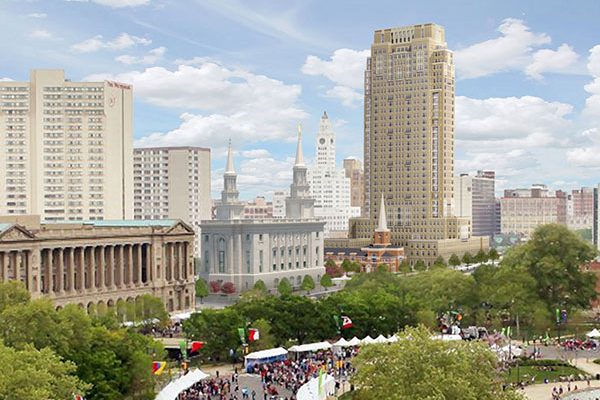 In conjunction with the Philadelphia temple project, The Church of Jesus Christ of Latter-day Saints is planning to build a meetinghouse and a 32-story residential apartment complex. According to Philly Curbed, the meetinghouse will be 24,000 square feet and 117 feet high to the steeple. It will house a chapel, a cultural hall, classrooms, and also feature a "Sunday Garden." The renderings feature a nice brick building with a courtyard on the adjacent lot of the apartment building.
The tower will be 359 feet tall, overlooking the two 200-foot high spires of the temple across the street. It will house 264 apartments and 13 rental townhomes and feature six green roofs, encompassing 7,500 square feet of space. The complex will also house a large, south-facing observation deck and a separate "amenities terrace," where the swimming pool might be located. Amenities include a fitness and business center with retail space, which will go nicely with the proposed bike share service.
The project is up for civic review early next month. You can read the project proposal complete with pictures and renderings of the completed projected here.
The temple is expected to be completed in 2016, though no date has been announced. When it is completed it will be 53,000 square feet and the Church's first temple in Pennsylvania to serve more than 48,000 members of the Church that live in and around the state that have been using the New York City and Washington D.C temples.