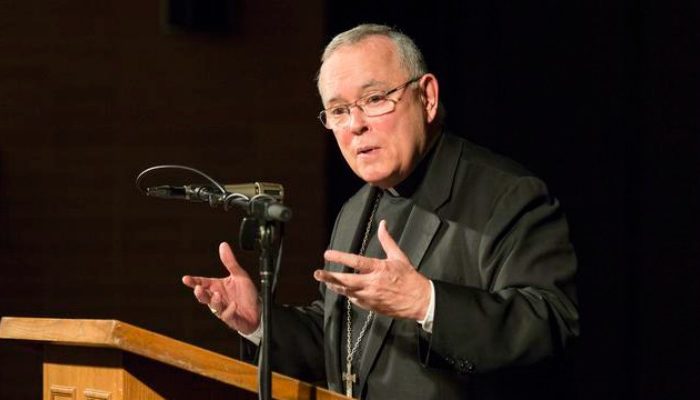 A Catholic archbishop spoke with students and faculty at Brigham Young University on Friday, sharing the importance of preserving religious freedom and taking a stand.
Archbishop Charles J. Chaput of the Archdiocese of Philadelphia told those gathered in the University's Wilkinson Student Center that BYU has a lot to be proud of. Mormon Newsroom reports Chaput saying,
Brigham Young University is an extraordinary university not just because of its academic excellence — or the fact that it occasionally beats Notre Dame — but because it's a center for learning enriched by its religious identity. Please never lose that.
Chaput explained that members of The Church of Jesus Christ of Latter-day Saints share a lot of common ground with members of the Catholic faith and that these similarities should create a bond between the two faiths, forming a friendship and a commitment to work together to share the goodness of God.
Chaput states, "the differences in our doctrine and practice are obvious, ignoring them wouldn't serve the truth. But that doesn't preclude friendship. It doesn't preclude working together. And it doesn't obscure the fact that we face many of the same problems and share many of the same convictions about marriage and family, the nature of our sexuality, the sanctity of human life and the urgency of religious freedom."
He touched on the Magna Carta and discussed the impact it had on America's Bill of Rights and on national constitutions around the world. Chaput ends by explaining that we are living in a different culture than what existed during the time of this nation's birth. Although in the early days of America most were Christians, and nearly all were religious, today it is not that simple.
Chaput concluded,
In 2015 we're a nation of many faith communities and no single church. That's a gift, not a burden. But as the Founders knew, and we forget at our peril, the American project of ordered liberty can't work without the support of a moral people — a people formed by a living faith in a loving God
Chaput also visited the J. Reuben Clark Law School and met with University administrators. Before heading back to Philadelphia, Chaput attended a special dinner with some of the leaders of the LDS Church on Friday evening.