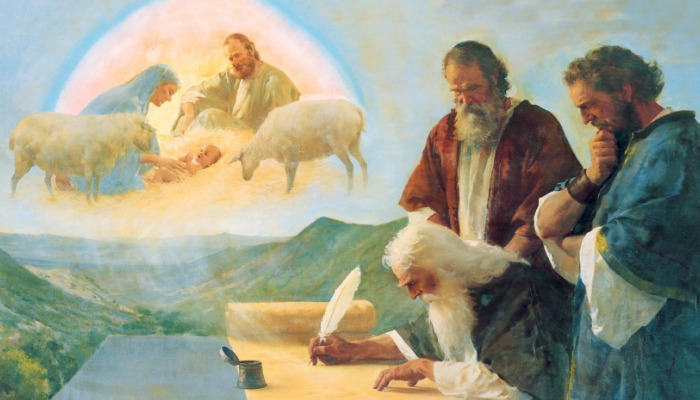 It won't be too many Gospel Doctrine classes into the future that we are into Isaiah again, and you well-remember what torture it was the last time you tried it. I have to admit that Isaiah is not a huge problem for me for 3 reasons:
I'm Jewish and think like a Jewish person.
I'm a well-trained poet (who's had writer's block for some years now).
I lived in Israel for 8 years and know some Hebrew.
So that's all you have to do to understand Isaiah.
If these three things seem unattainable, then listen to this podcast in which Laura Harris Hales discusses tips for understanding Old Testament Isaiah with Joseph M. Spencer, author of The Vision of All: Twenty-five Lectures on Isaiah in Nephi's Record.
It's because Nephi chose to include some Isaiah chapters in the Book of Mormon that Isaiah holds special importance for Latter-day Saints. Never mind that the Savior Himself spoke often of the necessity to read and understand Isaiah.
Spencer suggests four strategies for a serious study of Isaiah:
Don't rely solely on the King James Version of the Bible. It is 400 years old and contains archaic language. Consult a modern translation like the NRSV. If you want, you can even compare the verses in the KJV to the NRSV for clarity.
Don't stress if every verse or word doesn't make sense. Use context clues to figure out basic ideas.
Don't get lost in the details. Isaiah contains a lot of imagery. Not all of it is crucial to understanding its basic message.
Don't look for the Messiah in every passage. More likely than not Isaiah isn't talking about the Messiah but rather a messiah-like King Hezekiah.
Also, keep Isaiah's big picture in mind. For one, the Isaianic writings have many meanings. Just as Book of Mormon prophets saw Isaiah differently, modern scholars promote different interpretations. It might be wise to avoid the mindset that any particular verse has one set meaning.
Isaiah is also written systematically, which helps us understand the message. The first part of the book is about the creating of a remnant and the second is about deliverance. The prophets in the first part of the book are counseled to write, but in the second half, they are told to read.
There are patterns to look for, and Isaiah's theme is covenantal. Israel is the chosen people of the Lord and the promises of the Abrahamic covenant will be restored in time to the remnant.
Listen to the podcast here:
…or at the LDS Perspectives website.