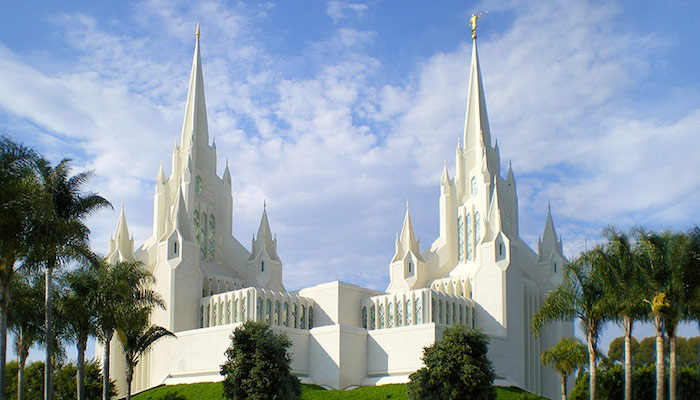 This article was originally written by Ernest Lehenbauer for Meridian Magazine. 
This 8-point star, perhaps best known as the Seal of Melchizedek, is a symbol of Christ. President Gordon B. Hinckley was sufficiently impressed with the symbol that he asked it be added to the Salt Lake City Temple.
How, you may ask, did this ancient symbol suddenly capture such modern attention? Seemingly by coincidence, if you believe in that. Our story begins with the design of the San Diego Temple by an architectural team completely unaware of any particular significance of the symbol. Then, we will take a look at the history, meanings, and mysteries of this ancient symbol uncovered by subsequent research.
Design of the San Diego Temple
When the Church of Jesus Christ of Latter-day Saints bought property in San Diego for a temple in La Jolla, the architectural team chosen for the job chaffed quite a bit at the Church's request to copy the then-standard temple model of the Boise, Idaho Temple. The plan, they said, would not fit into the La Jolla property, either architecturally or aesthetically and they lobbied the Church for a rejection of the Boise model and the chance to start over from the ground up. After listening to their appeal, President Gordon B. Hinckley, 1st counselor in the First Presidency, nixed the earlier directive, saying words to the effect of "Not all temples need to look alike."
With this new-found freedom, the firm went to work on a design, taking their unusual commission very seriously. William (Bill) S. Lewis, a Church member who worked for the firm, wrestled with a basic design and a motif to use as decoration. He fasted and prayed repeatedly. Finally, whether inspired by a dream or some other prompting, he woke up one morning with squares on his mind. Although the pre-eminent 20th century architect Frank Lloyd Wright had declared, "Destroy the box!" Lewis started with a box… a square… and began playing with it, modifying it, tipping it, twisting and tweaking it.
They settled on a floor plan with two boxes joined at the corners, like a blocky figure 8.
Read the rest of the article at ldsmag.com.