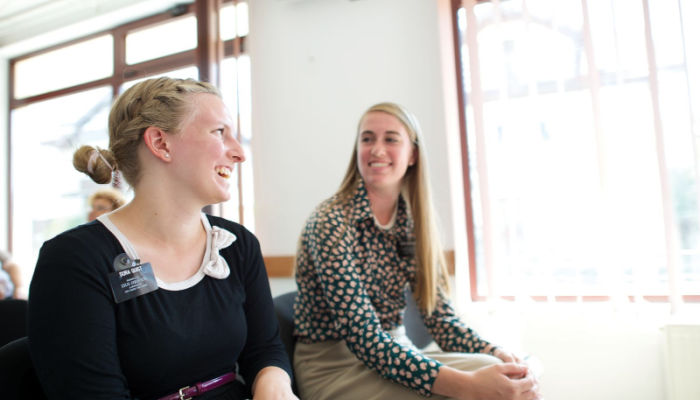 COVID-19 has been quite the curveball this year. Our lives have been completely turned upside-down! However, the inconveniences I've faced seem like nothing compared to those of the full-time missionaries for The Church of Jesus Christ of Latter-day Saints. I feel like it would be especially terrifying to embark on your mission during this time. Luckily, I was able to interview a couple of sisters who experienced the online MTC to hear all about it!
Side note: I wanted to make sure I was getting two completely different online MTC experiences. These sisters were not companions! Because of this, some of their answers are a little different. Every experience is unique!
Related: The Ultimate Missionary Preparation Guide
Morning Routine
First up are the logistics. Do they still have to get up at 6:30 every morning? Do they exercise? What is their morning routine?
Sister Porter: "The morning routine changes every day. I'll get up at 6:30 am, exercise, get ready for the day & try to do personal study. Some mornings are busier because we'll have workshops before class, so on those days my personal study usually happens later in the day!"
Sister Gittins: "I woke up at 6:30 am and did companion study. I then would get ready and eat breakfast before I started class at 9:45 am!"
Classes
Both of these sisters absolutely loved their classes. They both had two teachers. One that taught them from 9:30-12:30 and another that taught from 1:45-4:45.
They use Zoom for all of their meetings. They also use email and software called Canvas to communicate!
Teaching Lessons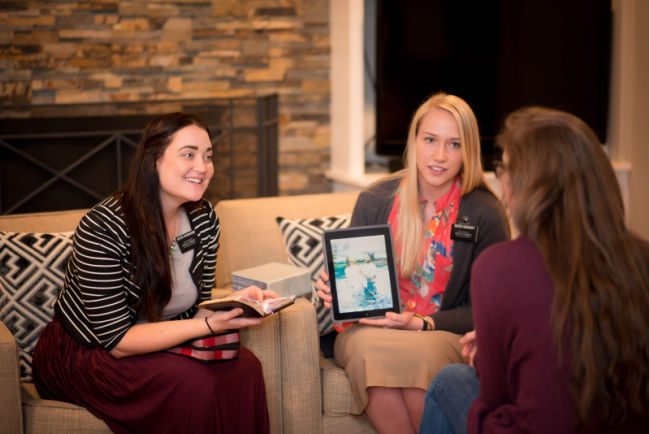 One of the most important parts of the MTC is something called TRC lessons. This is where missionaries get to practice teaching! The people they teach could be actual non-members or simply acting as one. Either way, it's a great way to learn the skills you need for the field. But how do they make it work online?
Sister Porter: "This kind of reminds me of online dating, honestly. Just because we get to look at a website & see a picture & bio of all the people we could teach. Then we sign up with them there. At least for English speaking missionaries, they like us to do 3 TRCs a week, with a new person each week. We meet with them for about 25 minutes over Zoom."
Sister Gittins: "We get a link through Canvas. Once we schedule a lesson, they send us a Zoom link to join."
Connecting With Your District/Companion
During my time at the MTC, I became extremely close with my district and companion. You form a pretty amazing bond with people that you've only just met. Could this still happen when you're doing online MTC classes? How did they make it work?
Sister Porter: "This was what I most worried about, but I've gotten lucky with the best companion & district. It's kind of shocking how close we have gotten! For the district, we have a Google hangouts chat, we have time to talk in classes together, & on P-day & Sunday, we try to find time to do a district Zoom call. My district even had a special greeting we all do together when we start & end class! I have the best group of kids with me & I'm so lucky we've managed to become such good friends even over Zoom.
"I'm also really lucky that my companion lives close to me! We do Zoom for our companion study together every day. But we've been able to meet up on P-day & I even got to go to her farewell!
"My advice for anyone worried about connecting with their district would be to make extra efforts to be in contact with them. Make sure you're praying for them & make sure you're finding time outside of class to get to know each other!"
Sister Gittins: "We used Zoom for companion study. On weekends we did Come, Follow Me with the district over Zoom as well. We also had a district group chat we would talk on daily!"
Breaks/Lunch Time
Do they get breaks? How long do they get for lunch?
Sister Porter: "We get a break every hour during class for 5-10 min. And we have about an hour and a half for lunch!"
Sister Gittins: "Depending on the teacher we got 3 to 4 breaks that were 5 to 10 minutes long for each 3-hour class. Lunch was 2 hours unless we had workshops or TRC lessons that we had to do during lunchtime."
What time does your day end?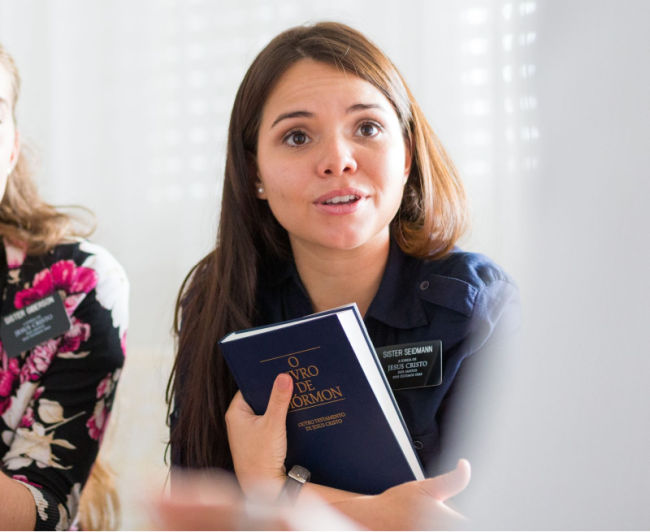 Sister Porter: "Depends on the day! Most days we're done around 5 pm. On Tuesdays however, we all watch the devotional & talk together. There are also days when we have late TRC lessons."
Sister Gittins: "The day officially ends at 10:30 pm when it's lights out! It really ends just whenever we finished all we needed to do for the day."
Do you live the missionary standards all the time?
Sister Porter: "Short answer, yes! We're encouraged to keep studying, spend time with our families, and tell our families about what we're learning. No TV (except church shows) music, or social media!"
Sister Gittins: "Yes. We are set apart so it's important we keep the missionary standards especially when we don't technically have people making sure. We want to have good integrity before going into the mission field so we can show God how much we want to do this for Him."
Preparation Day
For those who might not know, P-day is a day for missionaries to "prepare" for the rest of the week. They do laundry, go grocery shopping, write emails home to family, and get some much-needed rest/relaxation. Do they do this type of stuff while still at home doing online MTC training?
Sister Porter: "I was so worried for P-days. I thought I'd be so bored! But they've actually been awesome! I still wake up at 6:30, and I'll usually go on a hike with my family. Then we still have personal and companion study. The rest of the day is kind of left open though! I'll send emails & chat with friends and family. FaceTime my family who live far away. We do a district zoom call all together! And I try to meet up with my companion every P-day as well, we'll do dinner & chat! The rest of the free time can be filled with walks, studying, playing games & little naps."
Sister Gittins: "P-days are fun but it's hard to go from pack filled days to empty days with no particular goal in mind. It's nice, though, because we do district chats over Zoom to keep each other company because we were all in the same boat!"
Sundays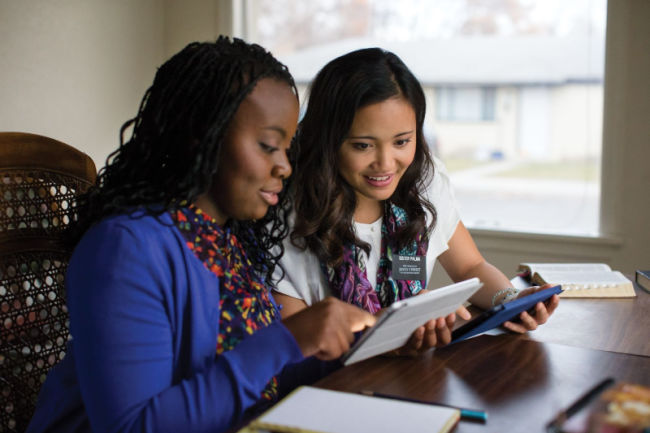 Sister Porter: "Sunday is kind of like an extra P-day! We don't have any classes, but we are still encouraged to have companion and personal studies. I usually spend the rest of the day doing home church, going on walks, playing games, & studying."
Sister Gittins: "Sundays were a lot like P-days because we didn't have a busy schedule. We just took the sacrament and studied Come, Follow Me."
Is anything different than you expected?
Sister Porter: "It is so much better than I thought! I am amazed by how happy I am. I'm also blown away by how much I can learn and feel the spirit through Zoom. I'm closer with my companion & district then I ever thought possible. The day goes by so quickly, too. I was so worried about how long the day would feel!"
Sister Gittins: "How the schedule was played out. I thought we would be busier in the mornings but we had about 3 hours before class and 4 and a half hours after classes before bed."
Are there challenges?
Sister Porter: "Definitely! It can be hard to not be in person with my district and teachers. I love them so much & want to be with them! It is also definitely an adjustment trying to be an obedient missionary while living in the same place. It's hard to not want to sleep in on my cozy bed, or re-download Instagram on my phone! It's also been hard for some of the elders who have their X-Box in the room next door! But the Lord is aware of us & definitely helps make things easier."
Sister Gittins: "I think the hardest thing about the online MTC is that I can't meet my district in person. It's also hard to wake up at 6 am!"
What are the positives?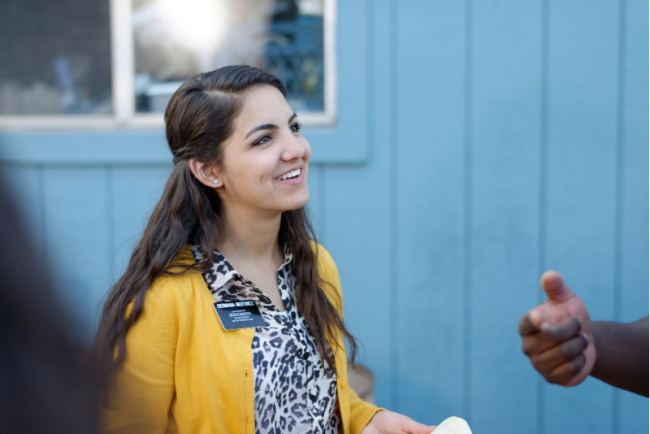 Sister Porter: "All of it! I really do mean that. It's amazing to have the Spirit so strong in the walls of my home. To be a set-apart missionary, with those blessings, while being with my family. I love the extra time I get to soak up with my family! I've loved getting to bond & form unique friendships with my district (if you can't tell already, I really, really love them!!). I also love that this is preparing me to be able to be a missionary online, teaching online. It's been an incredible experience & I feel a little sad for everyone who doesn't get to experience it! Oh also, home MTC food is incredible!"
Sister Gittins: "The positives are that I didn't have to drive anywhere or walk anywhere to get to a class. It was also nice being able to have a snack during our 5-minute breaks because we weren't stuck in a classroom."
A Greater Testimony
Lastly, I had to ask these great sisters about how their testimony has grown due to starting their missions during a worldwide pandemic. What specific blessings have they seen from doing the online MTC?
Sister Porter: "It has grown my testimony in so many ways!!
"1. The work goes on! Missionary work is so important. And this is such a testament to it! God needs His children to hear the gospel & a pandemic isn't going to stop that.
"2. God is very, very aware of us. I'm an "older" missionary going out as a 21-year-old. Being with my district, doing online MTC, and learning all that I'm learning has shown me just how aware of us God is. It's given me a huge testimony of the importance of His timing!
"3. GOD LOVES US. He loves us so much that he's going to provide a path to Him, regardless of what the craziness going on in this world. He has guided our church leaders to implement policies that have made church from home & online missionary work possible!
"I could go on & on, but I'll end it by saying that I know God loves us. I know God is aware of us! And I know that when we trust Him & His sometimes seemingly impossible/ crazy plan (ex: leaving for a mission in the middle of global pandemic!). He will make miracles happen!!! I love this gospel & I LOVE being a missionary!"
A Better Witness
Sister Gittins: "I think that this experience has 100% been different from what I expected. It's amazing how many people still decided to become missionaries during this time. I know everyone here is choosing the Lord even though things are tough.
"I have learned that the Spirit brings us is peace during tough situations. As long as we pray for His comfort we can receive those blessings. I truly believe that all of the missionaries who decided that COVID-19 wouldn't get them down will truly be so blessed. They stood their ground and blew with the wind. They will be able to stand strong in the path God has laid out for them."
Related: How Are Mission Call Assignments Really Made?
Aren't these sisters amazing? I so admire their resilience and desire to serve the Lord during this unprecedented time.
What advice do you have for these missionaries doing the online MTC? Leave it in the comments below and I'll make sure they get to hear it!