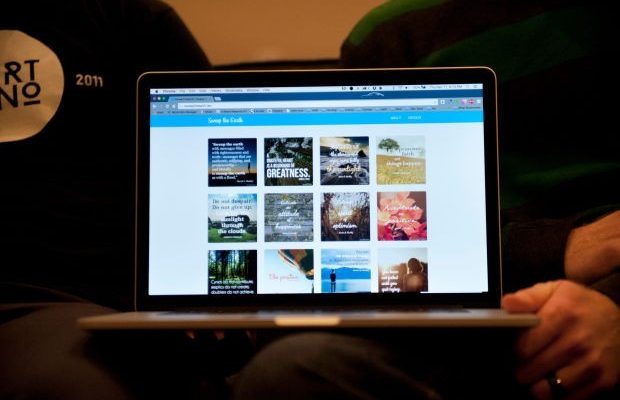 With an attempt to heed the words of an apostle of God, two men are creating a website that will allow members of The Church of Jesus Christ of Latter-day Saints to more easily search for image messages.
After hearing Elder David A. Bednar urge Latter-day Saints to "sweep the earth with messages filled with righteousness and truth. . .and literally to sweep the earth as with a flood," Tiafau Purcell and Colton Malone set out to do just that. With a website name adapted from Bednar's remarks, Sweep the Earth is aimed at giving all Latter-day Saints a source to access photo messages to share on social media.
Photo messages on Sweep the Earth can be searched for by keyword, author, category or hashtag. Herald Extra reports that Purcell has the job of looking for and compiling LDS quotes, verifying their authenticity and then designing the photo message. Malone takes care of the site programming and providing user access to the myriad of quotes available on the site—which is not entirely up and running yet.
The two entrepreneurs became friends a year ago when they were classmates at DevMountain and came up with the idea during a brainstorming session. As the two embarked on creating an accessible database of quote images, they discovered that there wasn't a single source that was creating the already existing images out there.
Purcell and Malone plan to make tools available on the site that will allow users to create and upload their own quote images to the site for others to view and share. They explain what they are all about in the introduction on their website, saying,
We believe in being missionaries in every aspect of our lives. Sweep the Earth helps members of the LDS Church become digital missionaries by sharing positive messages — messages that are authentic, edifying and praiseworthy.
The business partners say they hope to launch the site in its entirety in late January or early February of this year. To receive an email notification when the site is completely up and running, go to sweeptheearth.me and subscribe.