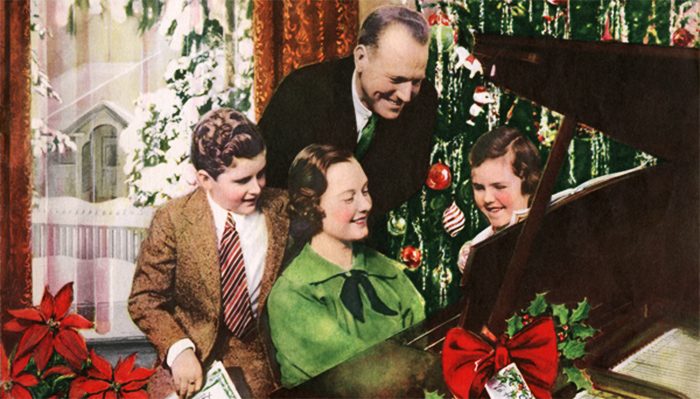 One of my favorite parts of Christmas is listening to the music. While my Christmas song playlist is filled with all the familiar songs, at some point there are only so many covers of Jingle Bell Rock one man can take.
LDS.net decided to compile the best unknown and family appropriate Christmas songs, to add to your playlist. We've chosen songs from the most popular themes and genres, so everyone can find the perfect original Christmas song for their playlist. Choose what you want your playlist to help you do, and jump to the section:
Or check out our YouTube Christmas Music Playlist to listen to all of the songs at once!

Christmas Songs to Make You Laugh Out Loud
One of the great joys of Christmas is just that, Joy. There are so many symbols of Christmas, that poking fun at Christmas can be just perfect! These fun songs are sure to make you laugh and put you in the holiday spirit.
A Rootin' Tootin' Santa Claus
Tennessee Ernie Ford performed an annual Christmas special through much of the 1960's. So while it's no surprise a gem like this slipped through unnoticed,  it's time this unknown Christmas song gets some recognition. A Texas themed Santa Claus should fit right in with the other fun spots on your Christmas playlist.
Penguin, James Penguin
Ever wonder how Santa puts together his list of who is naughty and nice? This tragically forgotten Brad Paisley number answers that question. This entertaining Christmas song about a north pole super spy will have you chuckling all afternoon.
I Want An Alien For Christmas
The band responsible for the outrageously catchy "Stacy's Mom" writes this hilarious Christmas present request. Make sure to listen for all the reasons exactly why they want that alien for Christmas.
Santa Claus Got Stuck In My Chimney
Chances are you already have at least a few Christmas songs by the first lady of Jazz on your playlist. Ella Fitzgerald's Christmas covers are among the most listened to. This chuckle-worthy Christmas song packs all the soul of her classics but with a unique Christmas tune.
Christmas Songs to Teach the True Meaning of Christmas
It's important that no matter how fun and exciting all the accouterments of Christmas can be, that we keep focused on the Savior, and the gift He was. These original Christmas songs, can teach us and those around us the true meaning of Christmas.
This is Christmas
Kutless asks the important question, "What is Christmas without Christ?" Their song integrates the Christmas carol "Joy to the World." This effect evokes the sense that all the trappings of Christmas are meant to celebrate Christ. This relatively unheard Christmas song is a powerful reminder to all listeners.
Christmas in LA
Since 2006, the Killers have released annual Christmas music videos. Last year's original Christmas song was set to a music video animated by BYU animation. The song recounts the story of a man reevaluating his decisions and relationship with his family at Christmas time. The Killers' original Christmas songs are always worth a listen.
Glorious
Melissa Etheridge reflects on the peace of being near family at Christmas. This song reminds Latter-day Saints that it's Christ's atonement that allows family love to last forever. By sprinkling in popular Christmas melodies, we get an original Christmas carol, with a classical feel.
Christmas Is
In this new Christmas song, Francesca Battistelli lists many wonderful memories of Christmas, such as watching Charlie Brown, or looking at lights on houses. Then she concludes in this powerful send off: "Christmas is all of these fun things for sure, but it's really so much more. . . Christmas is Jesus."

Christmas Songs to Start Your Own Dance Party
If you've been sitting too long playing board games, or want to spruce up your time in the kitchen, you might enjoy some Christmas dance songs. These songs have strong enough rhythms to get even the most Grinch-like moving.
Christmas Let's Do it Again
If you're not exuberant about Christmas yet, just listen to this song by Danish band Alphabeats. This nostalgia-infused pure energy Christmas song captures the excitement of gratitude and giving at Christmas. Tunes like this are the reason we should always be open to adding new songs to our Christmas playlist.
Oh What A Glorious Night
So many of our Christmas music videos tell the story from the perspective of one member of the nativity. This song from Sidewalk Prophets looks through the eyes of the shepherds with joyous effect. This infectiously moving Christmas song may be a fun and perfect addition to your celebration.
Rock and Roll Christmas
Rockabilly, George Thorogood, blasts out some feel good rock to a bouncing saxophone accompaniment. The lyrics, "Let's have a rock and roll Christmas, just like we used to know," may even feel more appropriate now then when the song first came out. This is one unique Christmas song you can't listen to while sitting still.
Cold Chillin' Christmas
There aren't many hip hop songs about Christmas that you can listen to with the entire family.   But this late 80's song from the hip hop collective, Juice Crew, focuses on the joys of being together and the importance of giving. The song's steady rhythm will get your whole family bobbing their heads.

Christmas Songs For Your Family to Sing Together
Many families enjoy singing Christmas carols together. But singing the same dozen or so songs every year can grow old. These sing-a-long songs are great additions to your annual tradition.
In Bethlehem
With strong keyboard, guitar, and tambourine sounds, this sounds like the kind of fun Christmas song a family would sit around singing together. A very talented family that is. And with the catchy refrain "In Bethlehem" this is a must add to your Christmas Playlists.
On Christmas Morn
Most of the songs on our Christmas music list, are at least fairly new. Not many 85 year old songs can legitimately claim to still be undiscovered, but this folk/gospel song by the Cotton Top Mountain Sanctified Singers, is sure to leave you clapping, if not hollering, along.
Only At Christmas Time
If you enjoy this song, you'll have to check out Sufjan Stevens' long list of Christmas songs. This song looks at the power of the atonement, and the opportunity Christmas gives us to reflect on those blessings. The simple harmonies and accompaniments make this a perfect do-it-yourself carol.
Sparrow in the Birch
Released November of 2014, it has already hit the top 100 most popular Christmas albums on iTunes. From an Idaho family of six daughters, the unique Christmas song cheers on a sparrow trying to sing celebrations at Christmas time. After listening, you'll want to sing right along with that little sparrow.

Nostalgic Christmas Songs to Reminisce to
One of the greatest effects of Christmas time is the opportunity it gives so many people to come together with their family. As Latter-day Saints, this is a particularly important part of Christmas. These songs celebrate being near family during the holidays.
Christmas as a Child
For many people Christmas songs connect them with their childhood. Eclipse 6 does a beautiful job of listing many of those connections to their past. The band is perhaps most famous for their performance at the 2002 Olympic opening ceremonies,
Winter Moon
Mindy Gledhill elicits the the feeling of children playing together at Christmas time in her original Christmas carol from 2011.  Gledhill's goofy Christmas song album features a second original song "Little Soldier," as well as a recording of Winter Moon with puppets.
Christmastime
Many don't associate alternative rock with memories of children opening toys under the Christmas tree. Smashing Pumpkins' music, however, always had an ethereal feel that fits perfectly with an original Christmas song. But perhaps because of the odd fit with their brand, the song never got nearly the recognition it deserved.
Little Wood Guitar
Appropriately, this song looks at the way that music brings us together during Christmas time. Sugarland, the popular country duo, released the song five years ago. Listening to a Christmas song about the nostalgia of Christmas songs may feel a bit meta, but it also hits home.

Christmas Songs to Worship the Gift of Jesus Christ
Ultimately Christmas music can be not only a way to remember the Savior, but a means to grow closer to him. As Latter-day Saints we understand that the Lord sees our songs as prayers to him. These unique Christmas songs may help capture the spiritual feelings that you're having this Christmas season.
Winter Snow
Songs about the chilly weather are favorites at Christmas time. This unique Christmas song uses the softly falling snow to teach about how the Holy Spirit quietly instructs us about the Savior.
Virgin's Lullaby
This song captures the confusion Mary must have felt about the adulation of strangers about her baby, and how the true importance of His life began to dawn on her. This new Christmas song looks through the eyes of all the visitors to the stable that night.
Christmas Song
This stunning song by the Dave Matthew's Band, recounts the birth and life of Jesus Christ, particularly focusing on his compassion. Anyone looking for a true Christmas song that they've never heard before, could hardly do better than this.
Peace is Here
I'll admit beginning a song with the words "Little children born to chaos" isn't normally a sign of a happy Christmas song. But this little heard Christmas song from Jars of Clay focuses on how Christ's birth blesses the world.
What under the radar Christmas songs do you love in your family? Are any of the above destined to be your new favorites? Let us know in the comments.