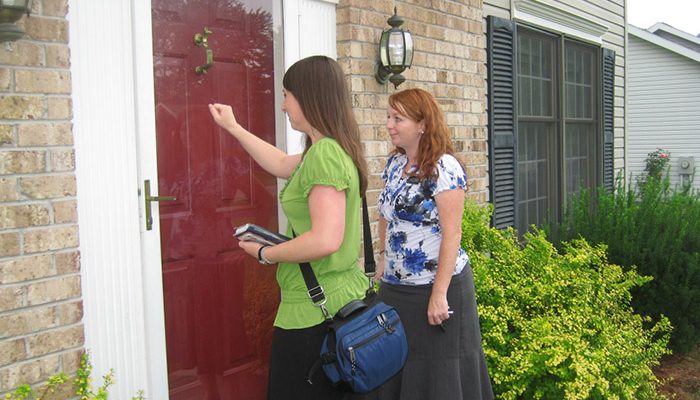 The Childish Rejection
Laurianne, a constitutional scholar who blogs over at amormonatoxford.blogspot.com, recalls that during her mission in Australia the most ridiculous rejection she received was someone sticking their tongue out at her. Neener Neener Neener.
The Consumer Rejection
Sister Hillary Christensen, who served in the Philippines, shares one of her most outrageous rejections, "We ran into a French man wearing only undies. We asked him, 'How are you?' And he said in a very heavy French accent, 'Yezzz, wut yoo zellliiinngg.' Huh? We finally figured out he was asking 'what are you selling' Oh. 'We aren't selling anything, Brother. We are missionaries from the Church of–' 'I DON'T WUNT TO BUY WUT YOOOO ARE ZELLING!" And then he ran off, undies and all."
The Bon Voyage Rejection
This rejection comes via Elder Baird who served in Houston, TX. One day they were tracting, and spoke to a man who said he was a sailor who was leaving the next day. The missionaries let the man go. But they saw the light on when they were back in the neighborhood two days later and decided to give it a knock. The same man came to the door. He stammered when he saw the missionaries, but decided to double down. He told the elders he did indeed leave on a sea voyage, and already came back. But that wasn't enough, he insisted to the missionaries he had to leave on another sea voyage later that day so they absolutely had to go. Everyone had a good laugh. Bon voyage!
The Helpful Rejection
Two elders were opening up a new area. After moving into their apartment, they walked downstairs hoping to drive into town and buy some essentials. In their parking lot they saw a friendly looking middle-aged woman. The senior companion approached her and asked for directions to the store. She jumped right to the task giving them directions to the middle of town. She also told them about a couple other stores where they could find special deals, and directions to them as well. She offered to give them any other help as they needed it. "Well," the senior companion said, "We are missionaries of The Church of Jesus Christ, and we are looking for people interested in learning more." "You can take your religion and shove it!" the woman shot back at the elders with a smile.
The Good Catholic Rejection
One former Elder, Ken Westwood, relates this story of a common excuse turning out a little bit different. "While tracting on a Sunday afternoon, we met a man who opened his door. Before we could even say 'Hello,' he told us, 'Thank you boys for coming by, but I'm a good Catholic, and I don't need your message.' My quick witted companion responded, 'How was church today?' The man shot him a look, 'How the %@#! should I know? I haven't been to that !#%* place in years.' We were all laughing as he slammed the door in our face."