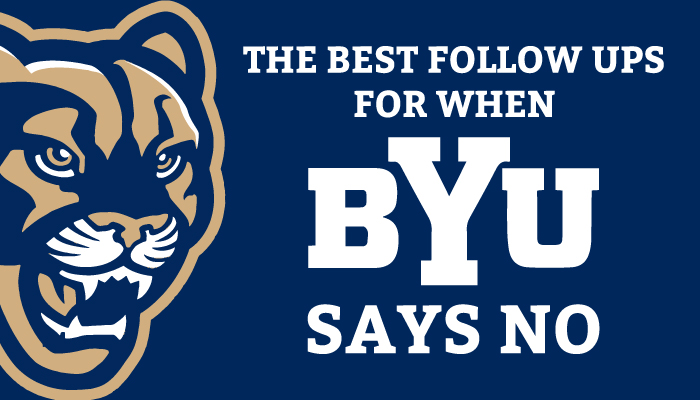 BYU denied your application, but we're here to help. Lots of Latter-day Saints have their hearts set on the Church's university in Provo, but more applicants get rejected than accepted, so you're in good company.
Not only can you still have a good college experience, you might even have a better one after exploring new options. Here's how.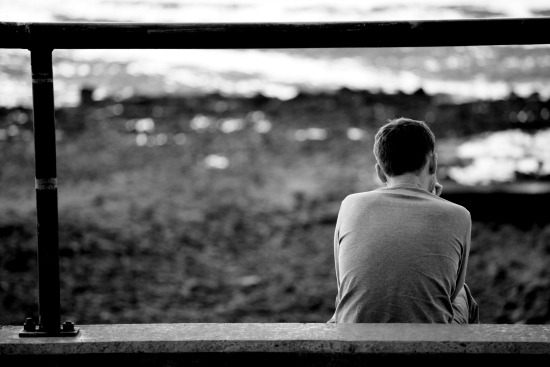 Take a Moment
Being sad is okay! It's completely fine to take some time to work through that disappointment. Know that you are still awesome, you can still succeed in life, and that it's nothing personal. Buy some chocolate, pop on those bunny slippers, and feel for a bit. Once you're feeling up to it, it's time to see what your next steps could be.
Try Your Second Choice
Even if BYU was your dream school, you probably applied to other colleges as well. Because of BYU's connection to the Church, you may have prioritized it over schools with a better geographical or academic fit for you. You can have an amazing college experience somewhere other than BYU. Try to get a feel for what college will suit you best. You could plan a visit to check out the campus and student housing. Try to embrace a different college experience.
Apply for Another College
If you didn't apply to any other colleges than the Y, don't sweat. Junior and community colleges are an under-appreciated option. Look around for universities with open enrollment. For example, Utah Valley University accepts applications through August for the fall semester. You can also check out
this list of colleges
for other colleges with open enrollment.

Find an Honor Code School
The Honor code is a important part of the BYU admissions process and a big draw for LDS applicants. If you're looking for a school with an honor code, check out this list of colleges. If you want to bring the Honor Code with you, try our handy survival guide for non-BYU schools. You don't have to feel uncomfortable at your school because it's not BYU.

Apply to a Technical or Vocational School
If you know what you want to do, try applying for a vocational school. You get smaller classes, more experience, and better access to your teacher. Prices can also be a lot cheaper than a traditional four-year college.

Consider a Gap Year
You could take a year off before attending college. Be sure to spend it
productively
. Volunteer, travel abroad, work, or any other experience that will help you grow. Apply for colleges with your new adventures fresh in your mind, and on your application. But remember: every year you wait is another before you graduate.

Look into Transferring
If BYU is the only school for you, look into transferring from another university. Transfer students must complete 24 credits at another school first. Check to see what credits will transfer well from your temporary school of choice. BYU is famous for not accepting transfer credits.
Be aware that transfer students cannot apply for university scholarships for a full year after they
are accepted
. An idea: get an associate's degree at a different university, and then transfer. You skip the generals that way.
Apply as a Visiting Student
One way to fill in those 24 credit hours is to become a visiting student for the spring/summer semesters at BYU. You can take classes that are prerequisites for your desired major, or dabble in other subjects. It's a great way to figure out what you want to do, if you're not quite sure. Check out the
BYU catalog
for a list of classes offered during the spring and summer.

Reapply
If you decide that BYU is the only college for you, you can
reapply
for another semester. There's no limit to the number of applications you can send in. But before you copy and paste your previous application, you'll want to make some changes.
Improve your scores. You can't change your high school transcript. What's done

is done

. But you can try to improve your ACT/SAT scores.

A high score for those tests will increase your chances, so consider hitting the books again

.
Revise your application.

BYU takes your experiences with service and leadership into consideration along with your grades

. These

are explored

through the essay section of the application. It's crucial to nail down your responses to those 5-6 essay questions. Remember to choose experiences that are special for you.
Get some new experiences. Put the time spent between application periods to good use. Take this time to get involved with the community or a cause you're passionate about. Take charge of a service project or join a community group. Don't be the same person on the next application.
If you didn't get into BYU, it's not the end of the world. You still have plenty of options to explore, and you will become a great person anyway. Remember, your world ends with you, not BYU.