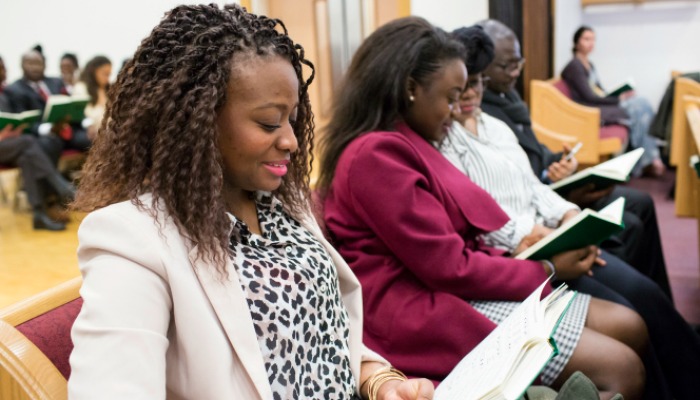 My husband and I have lived in three different wards in our short 1.5 years of marriage. Attending a new ward can be daunting! At first, I thought members would flock to me and I would immediately make a billion new best friends. Well, that was most definitely not the case.
I have learned over time that you really have to put yourself out there. It can be difficult, but so worth it. Having a ward that feels like family makes it easier to live the gospel. After asking some friends and family for advice, I compiled a list of ways to incorporate yourself into a new ward without a hitch!
1. Attend the Second Hour
It's tempting to run back home and change into your sweatpants right after sacrament meeting, I know. However, simply attending the second hour is one of the best ways to make a new ward feel like home.
Try sitting next to someone you don't know! You could also simply ask someone a question about the ward to get a conversation started. Being present for this part of church is an easy way to get integrated into the ward.
2. Meet the Bishop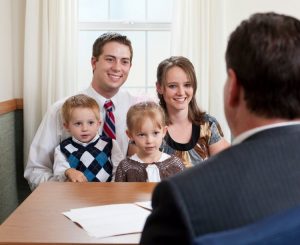 Setting up an appointment with the bishop is one of my favorite ways to get to know the ward. A simple, ten-minute meeting with him shows him you're excited to be there! He can introduce you to other members as well.
If you're more of an introvert, you could use this opportunity to let the bishop know you're nervous about being in a new place. He will be more than happy to help you out!
3. Magnify Your Calling
Hopefully, you'll receive a calling shortly after moving into your ward. This is a fantastic way to meet new people and make friends. Take this opportunity seriously and find joy in serving others.
My husband and I are primary teachers. At first, I thought I would be distant from the ward, but have found the opposite to be true! I have loved getting to know the parents, the primary presidency, and the amazing children. It has made the ward feel even more like a family to us!
4. Join the Ward Choir
It doesn't matter if you can hold a tune or not, the ward choir will be lucky to have you. This is a fantastic way to form friendships! Taking one hour out of your week is a small price to pay for the joy ward choir can bring.
If you can't sing or play the piano, I know you have other talents. Find ways to use them! The possibilities are endless.
5. Do Your Ministering
Ministering is so important. Like a calling, you should receive a ministering assignment soon after moving into a new ward. If you don't, talk to the Relief Society president!
Start by simply praying for those you minister to. Next, send them a text. It begins with small actions, but these people can become incredible blessings in your life. Some of the people I have ministered to have become my best friends.
Related: The Selfish Act of Selfless Service
6. Offer to Serve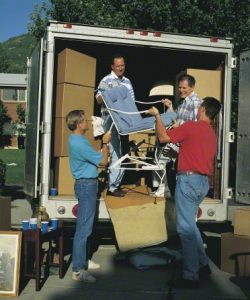 When we serve others, we serve God. When the sign-up sheets are passed around in class, put your name down! Offer to bring a meal to a family in need, substitute for a primary class, or help someone move.
I have found so much happiness as I have served a new ward. I often think when I move into a new ward that I will be bombarded with cookies and service.
Instead, I learned that my sense of belonging increased when I found ways to serve my fellow ward members.
7. Attend Ward Activities
Ward activities are there for a reason. These events are planned to bring the ward together! Go to as many as possible. Simply making the effort goes such a long way.
It can be really scary to step into a ward activity alone. This is another reason ministering is important. Bring them with you! However, you might still have to go solo. I've been there. Guess what? I still had a blast! You will too.
Related: An Introvert's Guide to Surviving in an Extroverted Church
8. Put the Phone Away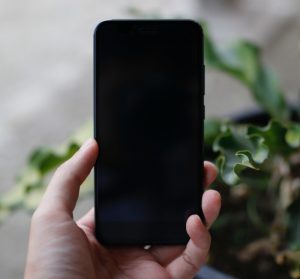 This might sound silly, but I would argue that this is the most important tip for integrating yourself into a new ward. Putting the phone down and being present allows for others to approach you.
Sit and look around. This brings opportunities to talk with members. It will also help you feel the spirit! I try to arrive five minutes early to sacrament meeting so that I can listen to the prelude music. It helps me enjoy the sabbath when I ignore my phone for two hours.
It is important to remember that we go to church for the Lord, not the people. The gospel matters most. If you don't feel that "click" in your new ward, remember why you're really there. The Savior loves you and wants you to be there. Turn to Him and He will lift you up!
What tips do you have for making a new ward feel like family? Let us know in the comments!