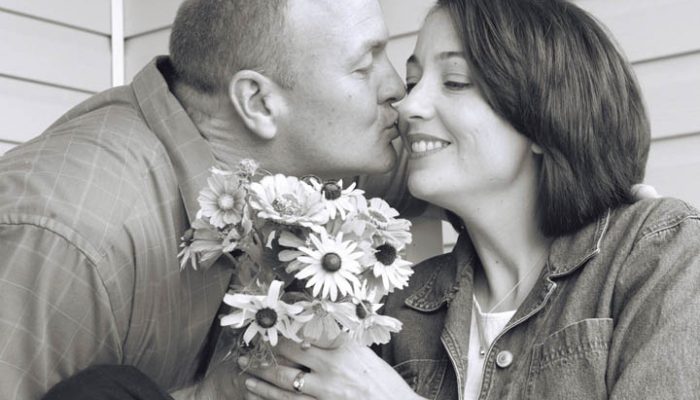 Last week I saw Seth Adam Smith's "Marriage Isn't For You" article on both of my twenty something, unmarried sisters' Facebook walls.  When a blog post interests both of them, then I'm interested.  So, I read the blog.
As a Mormon (a nickname for a member of The Church of Jesus Christ of Latter-day Saints), I value marriage. I believe that because of Jesus Christ's atoning grace, a marriage can last forever, when performed with God's proper authority.
Seth Adam Smith's dad counseled him that "Marriage is about the person you married."  That was obviously the best advice for Seth. (It even turned into a viral blog post!)
My parents have 8 kids. Six of us are married.  I asked my siblings what marital advice Dad gave them. In general, Dad always asked if we always liked our fiancé as well as loved our fiancé and told us to live away from both families for a time to establish a married identity.
Additionally, Dad told me two things that have proven pivotal for me:
1-You've got to know and remember that you received an answer from the Lord in answer to your prayers about marrying Anthony.
2-Communication is the most important thing in marriage. If you don't communicate, your marriage won't survive.
Isn't it great when dads know their kids?  Seth's dad's advice was perfect for Seth. (It would not have been perfect for me.) My dad's advice was perfect for me. I still remember where I was when I received my undeniable answer to marry Anthony–on a German train en-route from Hanover to Berlin. I have brought to mind that moment countless times for various reasons during our marriage.
I understood Seth's point about being selfless in marriage and thought his sentiment was super sweet.  But, my thoughts led me to really consider how much marriage really has been for ME, because I'd felt a little gun-shy in the total, forever commitment department.
Our marriage is based on a mutual respect for Deity. Because of that faith in Christ, marriage taught me REAL love. Marriage taught me to value someone else's needs (even allowing TV zombies to fill my living room every Sunday night.) Marriage helped me to value myself and my own needs. Marriage taught me to take responsible action for my feelings and the option to give and/or take offense. Marriage taught me that being happy is better than being right. Marriage taught me to trust. Marriage taught me to believe in an awesome future.
Marriage provides some doozies AKA opportunities for growth AKA defining moments to give and receive love AKA chances to find out what you're made of.  It's still kind of hard for me to laugh at myself; however, sometimes it's easier for me, than for Anthony, to laugh at the things I've done.
One year after marriage: I had surgery.  After finally getting home, I felt so bad. I asked Anthony to pray with me.  He sat in front of me & started saying a prayer, at which time, and without warning to either of us, I suddenly vomited all over him.
Eleven years after marriage: While backing out of our ample garage onto our more than ample driveway, for inexplicable reasons, I steered my Sequoia catawampus right into Anthony's shiny, yellow Corvette convertible.  Then as he walked out of the house because of the crash noise, I peeled away to go help the friend who had called in urgent need.
I am grateful for this truth: "If one really loves another, one would rather die for that person than to injure him [or her]." Spencer W. Kimball
Fifteen years after marriage: After our umpteenth miscarriage, I told Anthony that I needed to move from our Hawaiian paradise to live closer to family on the mainland. And within two months, we moved to snow.
Anthony's pretty much a saint.  But, I've had an opportunity or two to show how important he is to me. I enjoyed my job traveling around the country, but changed when he said it was a struggle for him. I agreed to become a dog owner (that commitment made me cringe.)  Now, I'm smitten with a bulldog.
Every couple and marriage is unique and responsible for figuring out what works for them. Anthony and I feel blasé about long lists of relationship behaviors and requirements, and have concluded that what sustains the happiness in our marriage is mutual respect and our 3 marriage safety rules (which grew out of experience).
Mutual Respect and our 3 marriage safety rules:
Mutual Respect for our Spouse in our relationship, and in conversation with our family and friends/acquaintances. (I have his back. He has my back. In every conversation. Social network "think tanks" do not solve our marital issues.)
Read the scriptures and pray together every day. Attend church and the temple together. (Even when we're traveling, we still read and pray via phone or skype. It felt weird at first, but not weirder than breaking our spiritual connection.)
During times of disagreements, misunderstandings, or frustrations, touch each other. (Maybe define touching as "gentle or nice" rather than "poke in eye or kick to shin." This rule has helped us to reduce our arguments/frustrated moments substantially. It's hard to continue angry when holding hands, rather the desire to really communicate and understand prevails.)
Never go out for lunch/dinner/prolonged interaction with a person of the opposite sex. (We've both had opportunities to break this rule, but it's so easy to just invite one more person to go to lunch!  I've only broken this rule once, when a city's finance manager told me a group of people were going to lunch, and then no one else showed up. Awkward.  We see the absolute inspiration of this rule now as so many friends' marriages, respect, and love are disintegrating because of a "really good friend," etc.)
For me, marriage has become my happiest trip around the sun.  I love being married to my best friend and confidant.  I'm grateful Seth Adam Smith shared his thoughts about marriage. It's great to read and create dialogue about what really is working.  A healthy marriage is definitely worth every effort!