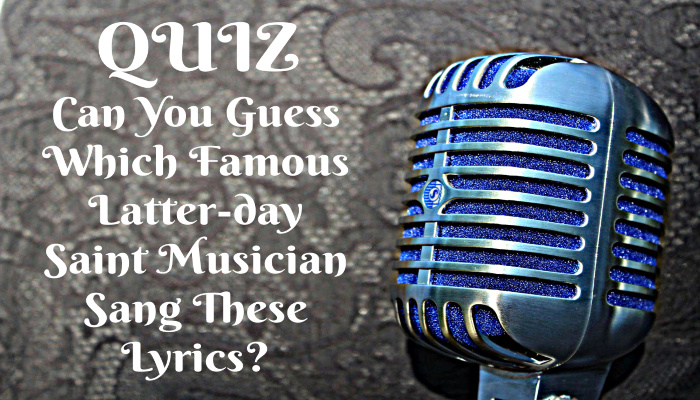 There have been many well-known Latter-day Saint musicians throughout the years. How well do you know some of the most popular songs which have been sung by them? Take this fun quiz to find out!
Click below to take the quiz!
"The world and I, we are still waiting. Still hesitating, any dream will do."
"No matter what you've been through here you are. No matter if you think you're falling apart, it's gonna be, okay."
"The world he left behind not so long ago...he's leaving..."
"And we are here to serve our King!
Children of the most high.
And it's His good news that we bring, as we labor gladly bringing souls to Christ."
Ryan Shupe and the Rubberband
---
The Nashville Tribute Band
---
"Everyone plays a piece, and there are melodies. In each one of us,
oohhh it's glorious."
"Well, don't tell yourself, you can't lean on someone else. 'Cuz we all need saving sometimes."
"When the storm is getting stronger. Will you lead me through the rain? As I open up my heart I hear Him say, I am here."
"Forever He is glorified. Forever He is lifted high. Forever He is risen. He is alive, He is alive!"
"You are a miracle. Sent here straight from heaven. A shooting star lighting up the sky.
A daughter of a God of love."
Click here to see your results!
---
Share the quiz to show your results !
Subscribe to see your results
QUIZ: Can You Guess Which Famous Latter-day Saint Musician Sang These Lyrics?
I got %%score%% of %%total%% right
%%description%%