Set to release in theaters in August, "Once I Was a Beehive" tells the story of a non-member girl who attends girls camp for the first time.
Paris Warner stars as the lead character, Lane Speer, who embarks on a week at girls camp with her new LDS friend Phoebe Valentine after a family tragedy that prevents her from staying at her own home for the week.
"Most of her acting is not really acting," the film's producer, Hailey Smith, said of Warner. "She is not a member of the LDS Church, so she found a lot of the girls camp songs and things very, well, interesting."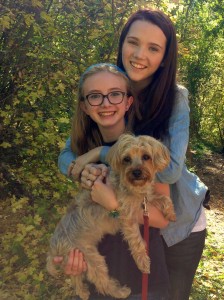 Warner, 17, is a native of Salt Lake City and, although she isn't a member of The Church of Jesus Christ of Latter-day Saints, she gained a greater appreciation for what it means to be a Mormon.
"I gained a greater respect for the religion and the people associated with it," Warner said. "My favorite part was probably the people. There were so many amazing actors. Everybody was so caring."
Hailey's daughter, Mila Smith, 14, plays Speer's LDS friend, Phoebe Valentine. Mila enjoyed acting alongside those who didn't share her religious beliefs because it gave her an opportunity to share the gospel in a casual way.
"This film incorporated some of our core beliefs," Mila said. "It was just enough to reach out and kind of let them see what our Church does. It was such a testimony building opportunity."
Hailey currently serves in the Young Women Presidency of her home ward, and says that much of the film was based on things she teaches her young women every Sunday.
"I keep telling my girls that it's hard to be a teenager, and it's hard to be a member of the Church sometimes," she said. She continued,
We can make it easier for each other just by being kind to each other. That's what I want the movie to let them know – that it's okay to be accepting and loving and to take care of each other.
Warner felt blessed to be part of a production with strong core values.
"The film has just enough drama and just enough comedy," Warner said. "It's an amazing movie and I was so lucky to be a part of it."
Maclain Nelson, co-star of The Saratov Approach, was the screenwriter and director of "Once I Was a Beehive." He said that his favorite part of making the film was the unity he felt among the cast members.
"Whether or not they had been to girls camp, a comradery existed, and everybody cared about each other right away," Nelson said. "We needed that comradery of everyone pitching in because it's an important story. They all came together and there was a real sisterhood on set."
Nelson said this movie was made for everyone, regardless of religious belief.
"This is a story that needs to reach out beyond the Mormons," he said. "No matter what faith you are, you're going to enjoy this. It's about humanity and dealing with the hardships that come with life, and we can all relate to that."
For updates on "Once I Was a Beehive," visit the film's Facebook page and official website.