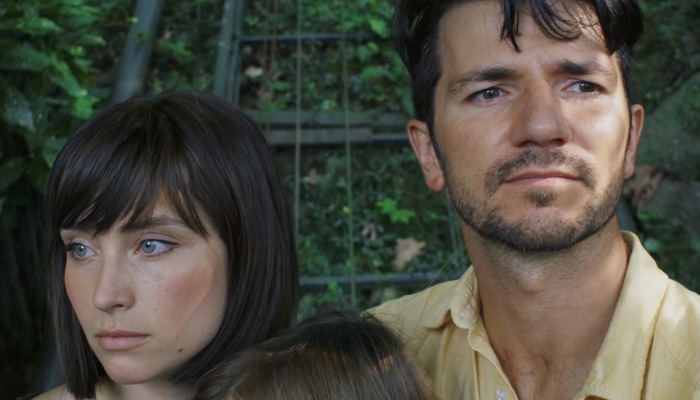 Filmmaker Barrett Burgin (The Next Door) is getting ready to present his latest short film, Out of the Ground, at the 17th annual LDS Film Festival this week.

It's only twenty minutes long, but it packs a punch. The story centers around a man (Clay), his wife (Terra) and their daughter (Light) who live a secluded life in the mountains where they tend to their own little Eden-esque garden. They grow everything they need, but they're trying to use the ground to grow much more than just fruits and vegetables. Clay begins to obsess just a bit too much over their mysterious project, resulting in a sense of tension that lasts through the finals seconds of the film.
The film features a smorgasbord of genres, but I suppose it could rightly be categorized as a sci-fi mystery drama. Burgin says his inspiration came from Tree of Life (2011) and Interstellar (2014). "I wrote the original draft days after my mission when I was trying to make a deeply personal decision between two good choices," Burgin said. "The story evolved into one about choosing family over all else, even our greatest dreams or aspirations."
Check out the trailer here:
It's an intriguing plot, but what might catch your eye most is the married couple starring in the short (played by Jeff and Aurora Dickamore). Recognize them from anywhere? Take a good long look. And that's about all I can say about that. Sorry.
As of Wednesday, February 28, Out of the Ground has been nominated as a finalist for the Fiction Award from the Association of Mormon Letters.
Q & A with Out of the Ground director Barrett Burgin
I was lucky enough to learn a little more about Out of the Ground via email correspondence with the film's director, Barrett Burgin. I'm literally copying and pasting some of the questions he answered for me:
Q: How did Jeff and Aurora react when they first heard about the opportunity to star in the film?

A: This is an interesting story, so I've decided to include the whole thing.

I've wanted to cast Jeff and Aurora Dickamore in Out of the Ground since I first wrote it, but at the the time they were living in New York City. Since I had no way of working with them, I decided to pursue the development of my first film, The Next Door (2016). During production, however, I learned that Jeff and Aurora had moved—to my hometown of Knoxville, Tennessee! They were even in my grandma's ward.

Over the summer of 2016 my wife and I went back to Tennessee for an internship, in hopes that we might also be able to meet and collaborate with Jeff and Aurora. We showed them an early cut of The Next Door, and we all decided to work together sometime in the future.

Last spring I was commissioned to direct a short film for The Knoxville Film Festival. Around that same time the Dickamores reached out to me, letting me know that they would be in Utah for some of the summer and would love to do a project together. Naturally, this was the perfect opportunity. We shot half of the film here in Utah, and then my cinematographer and I followed them home to Tennessee where we finished. The Dickamores were wonderful to work with and I'm lucky they were willing to act in my film.

Q: Does Light happen to be Jeff and Aurora's actual daughter?

A: Yes. Light is played by Wilde Hope Dickamore and this is her big debut!

Q: What was the greatest challenge you came across while shooting? How long did shooting take?

A: The greatest challenge was definitely building The Machine. We were extremely lucky that Shade Home and Gardens in Orem didn't mind having a permanent prop in one of their greenhouses, because that thing is made of cement and still sits there today. The real heroes in creating that set piece were Austin Batchelor, Jaysen Batchelor, and Tom Beck. They spent many long nights in that greenhouse constructing The Machine with the help of 30-40 assistants overall. Those guys are immensely talented, and if you get a chance, you should check out some of their other work.

Shooting took 4 days total, 2 in Utah and 2 in Tennessee.

Q: What's next for you?

A: Hopefully a BYU Capstone film. Certainly a feature.