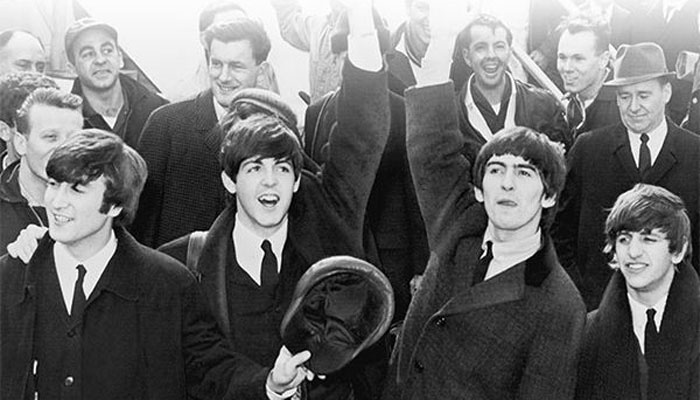 In commemoration of the Beatles' 50th anniversary of appearing on the Ed Sullivan Show, here are sixteen Beatles lyrics that remind me of being a member of The Church of Jesus Christ of Latter-day Saints, a Mormon (with some slight changes).
1. What it feels like to be in nursery-"All Together Now"
One, two, three four
can I have a little more?
Five, six, seven, eight, nine, ten, I love you.
A, B, C, D
Can I bring my friend to (herbal) tea?
E, F, G, H, I, J, I love you
During weekly Sunday school meetings, young children go to nursery, where they learn the very basics of the gospel. Also drinking green and black tea violates the Mormon health code.
2. What it feels like attending a youth dance- "I saw her standing there"
Well, my heart went "boom"
When I crossed that room
And I held her hand in mine…
Whoah, we danced through the night
And we held each other (not too) tight
And before too long I fell in love with her
Now I'll never dance with another
Since I saw her standing there
Mormon teenagers often get together for dances where many crushes begin. Those in attendance are often told to stay as far apart as a Bible (or Book of Mormon).
3. What it feels like to get a prompting from the Holy Ghost- "Do You Want to Know a Secret"
Do you want to know a secret
Do you promise [You will] tell, whoa oh, oh
Closer
Let me whisper in your ear
Say the words you long to hear.
Mormons believe that God can speak directly to them through the Holy Ghost. They believe that they should share the good news of the gospel with everyone they can.
4. What it feels like to develop a testimony- "I've Got a Feeling"

I've got a feeling, a feeling deep inside
Oh yeah, oh yeah, that's right
I've got a feeling, a feeling I can't hide
When Mormons want to know the truth about God, they pray, and the Holy Ghost speaks to them. The Holy Ghost often speaks through thoughts and emotions.
5. What it feels like to leave a girl behind to go on a mission- "All My Loving"

Close your eyes and I'll kiss you
Tomorrow I'll miss you
Remember I'll always be true
And then while I'm away
I'll write home every (P) day
And I'll send all my loving to you
Mormons who have felt the Holy Ghost and believe the message of the gospel often serve missions to share those beliefs with others. Most missionaries leave soon after graduating high school. Missionaries write home once a week on their preparation day, or P-day for short.
6. What it feels like to try to share the gospel with others – "Hello, Goodbye"

You say stop and I say go go go, oh no
You say goodbye and I say hello
Hello hello
I don't know why you say goodbye, I say hello
Missionaries love their message and are often relentlessly optimistic, but they face much rejection.
7. What it feels like to try to share the gospel with others (Part 2) – "Nowhere Man"

Nowhere Man, please listen
You don't know what you're missing
Nowhere Man, the world is at your command
Missionaries can often feel as though they are begging others to give their message a chance.
8. What it feels like to get married forever- "I will"

Love you forever and forever
Love you with all my heart
Love you whenever we're together
Love you when we're apart.
Mormons believe that God wants our love and marriages to last forever in Heaven, rather than ending with "Till death do you part." These forever marriages take place in Mormon temples.
9. What it feels like to follow Jesus Christ – "I'll follow the Sun"

One day you'll look to see I've gone
For tomorrow may rain, so I'll follow the [Son].
Puns aside, Mormons know that life can be difficult and following Jesus Christ is the only way to endure all the struggles life has to offer.
10. What it feels like sitting at Fast and Testimony meeting, when you didn't think you would speak- "Here Comes the Sun"

Sun, sun, sun, here it comes
Little darling, I feel that ice is slowly melting
Little darling, it seems like years since it's been clear
Here comes the sun, here comes the sun
And I say it's all right
Once a month, Mormons have a "Fast and Testimony" meeting where any member of the congregation can speak. Often spiritual feelings run high during these meetings, and those who may not have wanted to speak originally are persuaded to do so by the spiritual feelings welling up inside them.
11. What it feels like to pay tithing- "Can't Buy Me Love"

I'll give you all I got to give if you say you'll love me too
I may not have a lot to give but what I got I'll give to you
I don't care too much for money, money can't buy me [God's] love.
Mormons believe in hard work, and they follow the biblical commandment to give ten percent of their income to the Church (a tithe.) But at the end of the day, they know that money is not what is important to God.
12. What it feels like to have a great home teacher- "Hey Bulldog"

You can talk to me
You can talk to me,
if you're lonely you can talk to me
A home teacher is someone who visits another family in their congregation. Mormons all have a home teacher, and go out and visit others as a home teacher. These relationships can turn into strong friendships, and give people someone they can turn to during difficult times.
13. What it feels like to keep the commandments- "Free as a Bird"

Free as a bird
Like the next best thing to be
Free as a bird
Those not of their faith often think Mormons have lots of rules to follow, but Mormons believe that following God's commandments gives them more freedom both in this life, by avoiding negative consequences, and the next when they can live again with God.
14. What it feels like to be a child of God- "Baby, You're a Rich Man"

How does it feel to be
One of [God's] beautiful people?
Now that you know who you are.
What do you want to be?
And have you traveled very far?
Far as the eyes can see.
Mormons believe all humankind are the children of God. Knowing that you are a child of God, brings much security in moving toward the future. When Mormons follow the plan God has for them, they feel secure in knowing God's love.
15. What it feels like to grow old- "Get Back"

Get back, get back
Get back to where you once belonged
One important Mormon doctrine is that everyone lived with God before they were born. So death, or returning to live with God is simply going back to where you once belonged.
16. What it feels like to be at a Mormon funeral- "Ob-La-Di, Ob-La-Da"

Ob-la-di, ob-la-da life goes on brah
La la how the life goes on
Visitors at Mormon funerals are often surprised by what happy events they can be. Though Mormons miss their loved ones who have passed away, they know how happy those who have passed are, and that the next life will bring them back together.