Claire Ryann Crosby, a little Mormon girl who became YouTube's champion of cuteness at the ripe old age of 4, recently interviewed judges of NBC's The Voice. The video was only published yesterday, and already it has gone viral, with over 2 million views in 15 hours.
It's easy to see why; Claire oozes adorableness. She confronts Blake Shelton about his high school mullet, asks Alicia Keys how she can be "a big, strong woman" like her one day, and even tells Adam Levine and Blake Shelton how to get along.
This isn't Claire's first time on The Voice. Last year, her dad, Dave Crosby, turned three chairs and made Adam's team. After the blind audition, his daughter was invited to the stage to sing with her dad.
Dave Crosby isn't the only Mormon contestant who's been on The Voice. Other Mormon musicians like Dustin Christensen, Hannah Eyre, Madilyn Paige, Aliyah Rose and Lauren Judd have also competed.
In 2016, Claire Ryann began her YouTube career singing "Part of Your World" from The Little Mermaid when she was 3. This was a big hit, especially in Mormondom.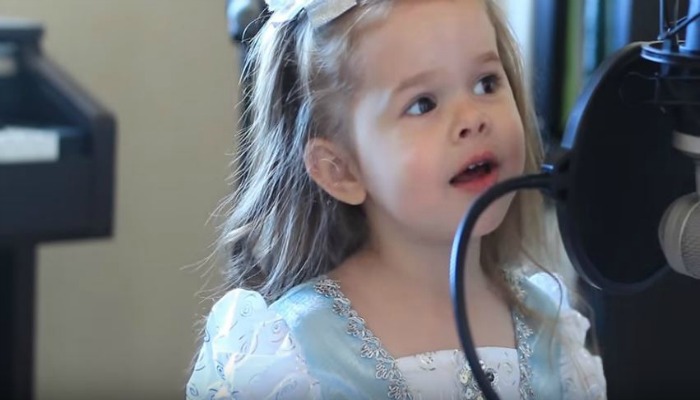 A year later, she and her dad sang "You've Got a Friend in Me" to a guitar on their family couch. That was their big break; the internet went crazy over her cuteness with over 150 million views, and soon news sites like ABC and Famous Mormons were reporting the internet sensation.
Ellen DeGeneres invited Claire and her father to perform on The Ellen Show. Later she invited them back to sing "How Far I'll Go" with Auli'i Cravalho, the voice of Moana. She has since been back on Ellen again.
Claire has been featured on Little Big Shots, a TV show dedicated to showcasing young and rising stars, where she performed "Part of Your World" again. She has sung "Let There Be Peace on Earth" with The Piano's Guys. She even sang "A Whole New World"  with her father at Disney World and a song called "When We're Together" from Olaf's Frozen Adventure with her dad and brother Carson at Disney's Animation Studio.
Claire has been winning hearts around the world with her charming, captivating voice and personality. And now her family is expecting a little sister. It's a great time for the Crosby family.