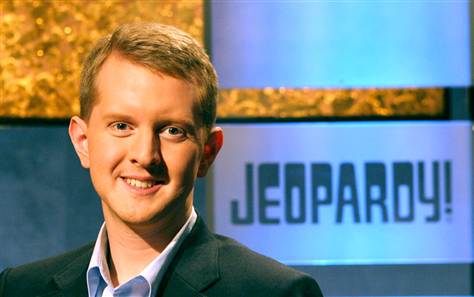 May 13, 2014
After 74 consecutive wins and earning  over $3 million, America's all-time game show winnings record leader, Ken Jennings, returns to the Jeopardy! stage once more. Jennings joins the other most winning contestants from the 1980's, 1990's and 2000's, who are are competing against one another in this Battle of the Decades. To celebrate 30 years on air, this week Jeopardy! finishes up the four-month battle—which kicked off in February—where each decade's winner will compete, alongside wildcards, for $1 million and the title of Greatest Jeopardy! Champion.
Jeopardy host, Alex Trebek, says that the Battle of the Decades has been one of the most fun tournaments he's ever hosted.
"The game material is incredibly challenging and the stakes are extremely high, yet the contestants brought humor and light to the proceedings. I know our viewers will enjoy watching it as much as I did hosting it, and look forward to hearing their reactions."
Jennings first appeared on Jeopardy! in 2004, just four years after graduating from Brigham Young University, where he competed on the university's Quiz Bowl Team. After winning 74 consecutive shows, Jennings gave up his reign to Nancy Zerg on November 30, 2004, leaving with a total of $2,522,700. Jennings has since then returned to the Jeopardy! stage for various tournaments and competitions, increasing his total winnings to $3,196,300. 
Yesterday, Jennings competed against and beat Chuck Forrest (1980's) and Russ Schumacher (2000's) in the first round of the semi-finals. He will go on to compete in the two-day final round this Thursday and Friday (May 15-16).  The 2nd and 3rd round of the quarter-finals—which takes place today and tomorrow—will determine the other two finalists who will compete against Jennings in the final round.