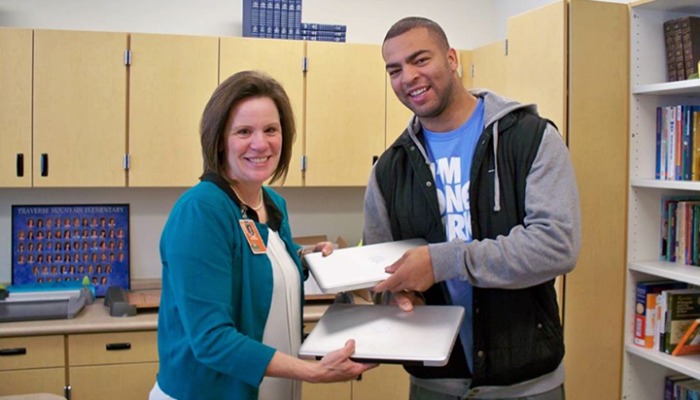 On a recent trip through airport security,  former BYU linebacker Kyle Van Noy accidentally swapped laptops with the woman in front of him in line.
Utah Valley 360 reports that while Van Noy was on his way to Miami, he realized what had happened, googled the woman, and found out that the woman, Ilene Strong, was a principal at Traverse Elementary School in Utah. Van Noy then called the school's secretary and gave his name and number. Strong was on her way to Minneapolis when she got the news that a stranger had her laptop, but soon enough they were texting to find a time to meet up and exchange laptops again.
Strong was venting at dinner over the fact that a stranger had her laptop when she was informed that Van Noy is a linebacker with the Detroit Lions and used to play for BYU.
Alpine School District posted a picture (above) to their Facebook of Van Noy and Strong trading laptops. In the post, Strong thanked Van Noy for being a good example for her students and for going into 35 classrooms so the kids could take a class picture with him. Van Noy took time answering questions and giving the students high-fives. Strong said,
He signed an autograph, which we copied 1000 times for all the kids. What an awesome guy. I just became a Detroit Lions fan and will forever watch out for #53. Thanks, Kyle, for being such a role model for the kids!
Van Noy was a linebacker for BYU from 2010-2013.